How to open your first trade in MT4 or MT5
You have registered an account at FBS, congratulations! You are about to open your very first trade. In this video, we'll show you how to open your first trade in MT4.
MetaTrader 4, also known as MT4, is a widely used platform for Forex, CFDs, and futures trading, highly valued for its advanced charting tools and customizability, despite a learning curve for beginners. MetaTrader 5 is a newer version of the platform. Still, they are similar for users in terms of interface and navigation inside the app. This guide suits both Meta Traders.
Metatrader 4 Tutorial: Step-By-Step Guide to Open Your First Trade
You will find this tutorial useful as it helps you to start trading right away without any extra activities. There are several steps in chronological order. Follow them and you'll open your first trade in no time.
Step 1: Create an account
The first step is to create an account in FBS. If you already have an account, skip this step and move to the next one.
Otherwise, check our guide on How to Start Trading Online with FBS.
You got a login and password when you created a trading account at FBS. The password will be displayed in a pop-up window after you create your account. Please, consider saving it for later usage. If you didn't save it, get a new password in your personal area at fbs.com.
Step 2: Start MT4 and Log in to Your Account
Fire up MT4. A login window appears. Fill in the login details. Check that you got connected:
The columns in the lower right corner should be green and blue.
It may take more than one attempt to log in.
If your first attempt fails, find the Navigator folder in the left part of MT4 or in the "View" menu. Find "Accounts" and choose "FBS-real." Enter your details and choose the FBS-real server. Click OK, and you're good to go.
On your mobile device, open MT4 and click on the "Manage accounts" button. Press the plus (+), choose FBS Inc as a broker, and enter your account details.
Step 3: Open Your First Trade in MetaTrader 4
Click the "New Order" button or press the F9 button on your Windows PC. A new window will appear.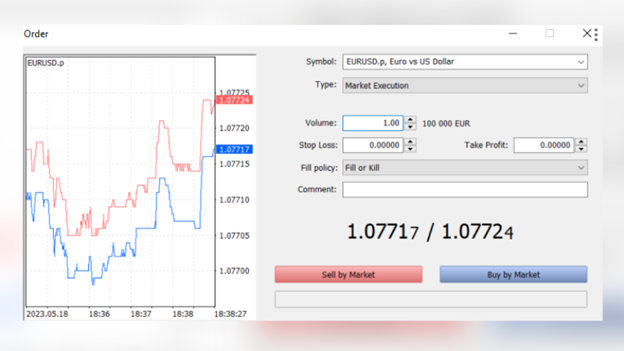 We will sell EURUSD – the most popular currency pair. Set the volume of the trade. The volume is measured in lots. One EURUSD lot equals 100 000 base currency (euros).
Opening a whole lot of EURUSD is almost impossible for a novice trader who simply doesn't have 100 000 for trading. That's why you can trade micro and mini lots. A mini lot equals 1/10 of a lot, and a micro lot is 1/100 of a lot.
Moreover, you don't have to put all this money by yourself – you may borrow it from your broker. Read more about lots and leverage in your article.
Click "Sell by Market."
You've made your first Forex trade! The level at which you sold the pair has appeared on the EURUSD chart. Wait until the trade shows the profit you want.
Step 4: Close Your First Forex Trade
To close the trade, go to the "Trade" tab on the panel under the charts. If you don't see this panel, hover over the "View" menu and click "Toolbox."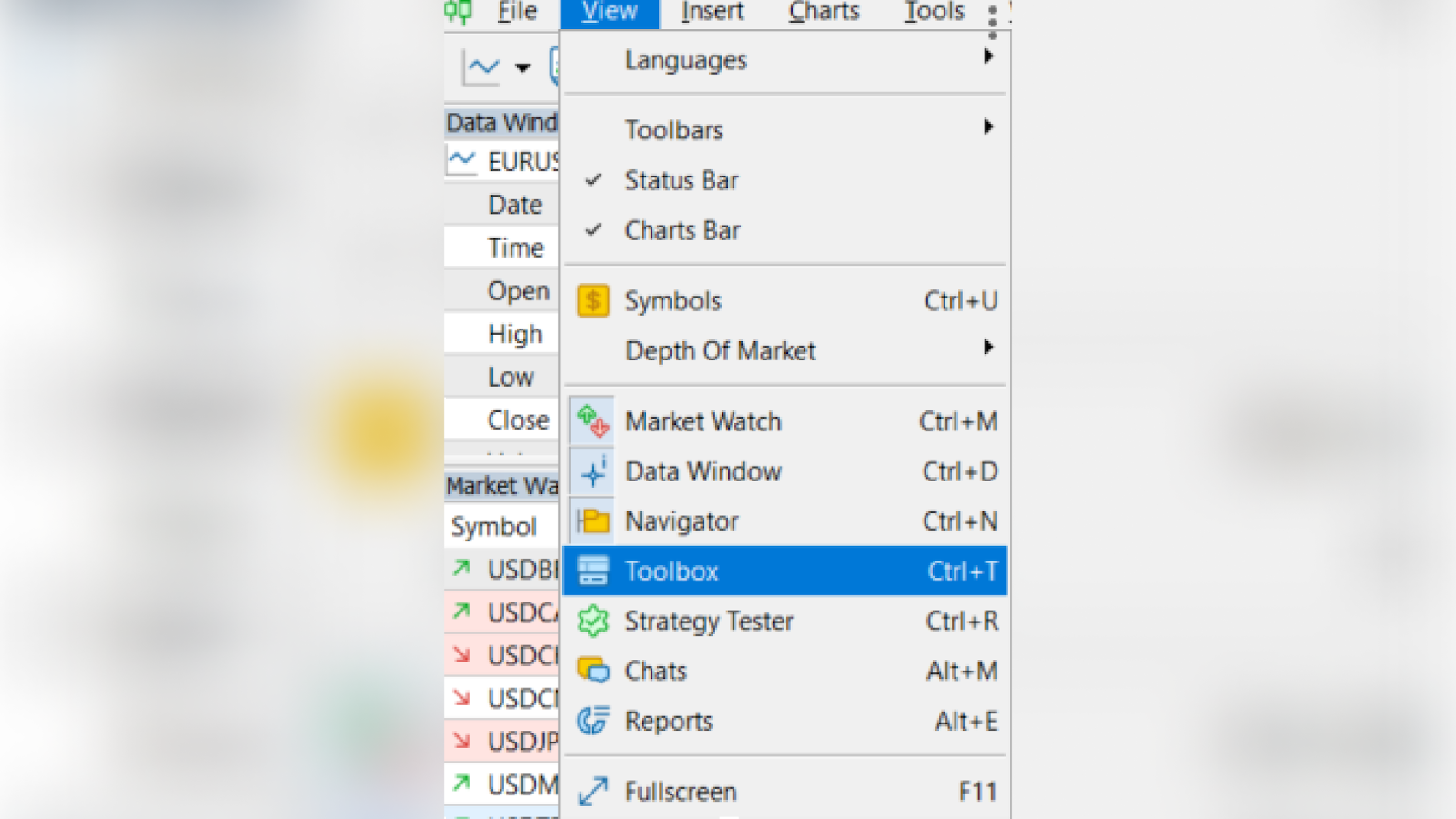 Double-click your order. In the window that pops up, click the yellow horizontal bar.
Your trade is closed, and your profit is added to your account!
How to Use One-Click-Trading in MT4
To make trading even more convenient, MT4 offers a one-click trading function.
To enable it, right-click on a chart and select "One Click Trading." "Sell" and "Buy" buttons will appear in the top left corner of your chart. With one click, you can now quickly execute trades without a secondary confirmation window - a huge timesaver during high volatility.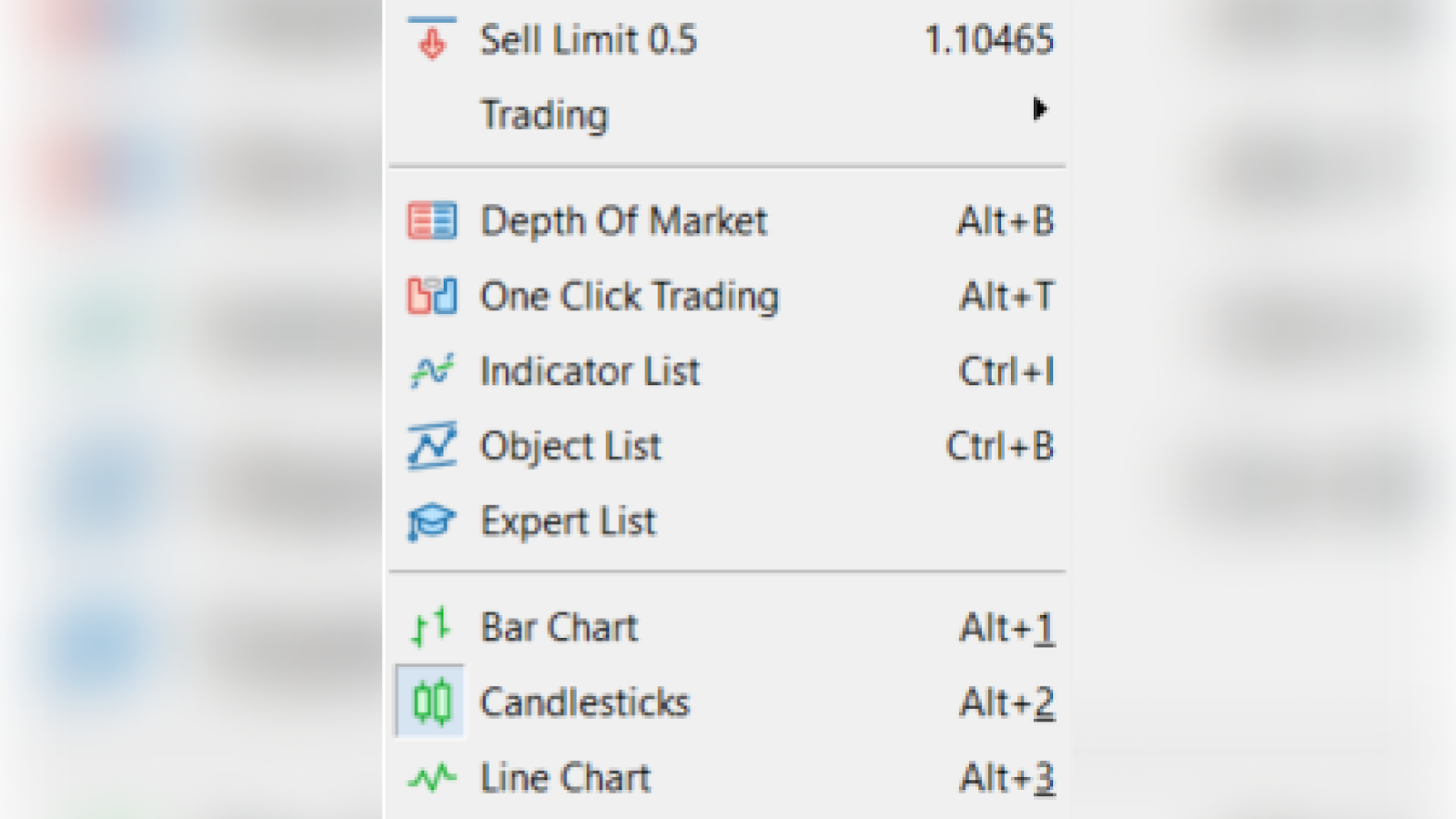 And there you have it! This is your step-by-step guide to getting started with trading in MT4. Remember, it's all about taking the time to learn the platform and being consistent in your trading. Keep exploring and mastering the different features, and soon you'll be navigating MT4 like a pro.
Good luck with your trades! Don't forget, if you need further assistance or have questions, FBS support is always here for you. Don't hesitate to visit our website or drop a comment below. Happy trading!
Similar
Deposit with your local payment systems