4 Daily Activities for a Beginner Trader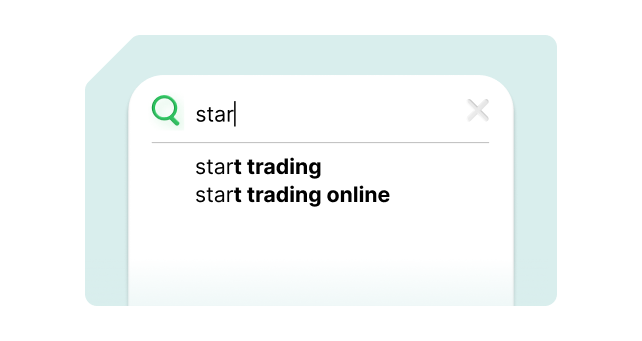 As with diving into any career, there are many things to learn when you start online trading. Are you confused from where to start? That's fine. FBS is here to guide you. We have prepared four activities which you can adapt to your daily trading routine.
Check the news
It is no secret that the news drastically affects the market. It causes market crashes, like the stock market crash in March 2020, when the S&P 500 market index lost 35% within several weeks. That is why it is of paramount importance to check the news before you start your trading day.
Here are five steps to follow:
Open fbs.com and go to the Economic Calendar.
Choose your time zone, preferred dates, and expected impact and click "Apply."
Look for the currency, stock, or dividend that will be affected today.
Decide whether you want to trade on it or not.
Buy or sell!
For example, if you hear on the news that the Federal Open Market Committee meeting takes place next week, you can expect the rise of USD. In that case, it is worth buying USD/*** pairs and selling ***/USD before the meeting.
Identify a trend
Understanding the general direction of the price and trading on it is crucial for every trader who wants to earn on a price trend. The rule for identifying a trend is the following. If the price makes higher highs and higher lows – it is an uptrend. Otherwise, it is a downtrend.
Follow these steps after you open the chart:
Turn on a bigger timeframe (H4 or daily is fine).
Find lows of the price movement.
Find highs of the price movement.
Identify the trend.
Turn on your preferable timeframe.
Buy or sell!
As it is commonly said, a trend is your friend. If you want to learn more about trends and their technical analysis, read our materials on this topic.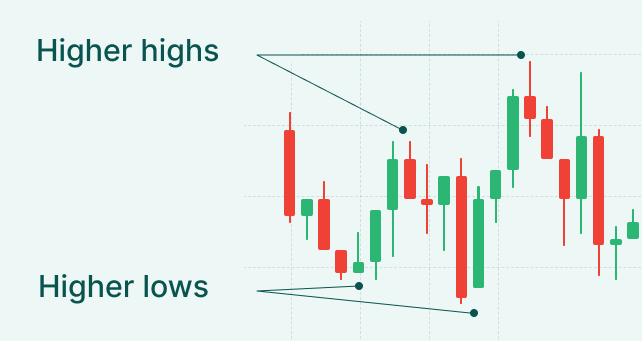 Set key levels
Identifying key levels is essential if you want to boost your profit. These levels define the boundaries of a currency pair's moves which can help you analyze the price actions.
Follow these steps after you open the chart:
Find price highs, lows, and levels that the price tends to react to.
Draw horizontal lines on these points.
Turn on a lesser timeframe.
Repeat steps 1 and 2.
Analyze your lines: they show how the price reacts.
Buy or sell!
There are more techniques to explore in your trading journey. You can find more tips on how to set key levels here.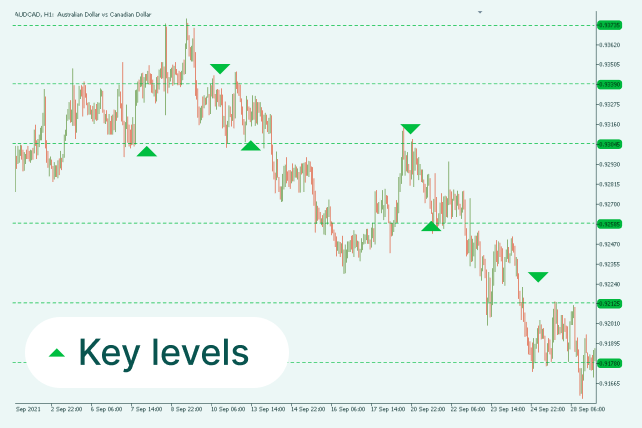 Control your strategy
Without a trading strategy, you are open to the unpredictability of the market and your emotions. As a beginner, consider trying a simple strategy and extending it to more complex trades after you find ideas and practices suitable for you.
Follow these rules to take your trading strategy under control:
It is better to risk only reserve money until you develop a well-proven strategy.
Slow down and analyze before opening a trade.
Try to leave your emotions outside the trading.
Set Stop Losses if you use leverage.
Your reward (Take Profit) needs to be bigger than your risk (Stop Loss).
Take a break from time to time.
Don't leave the trade too early. Look before you leap!
All traders need to be consistent, disciplined, and dedicated to winning on the market. Be ready to constantly learn new things.
These were four basic activities that you can easily adapt to your daily trading routine. And it doesn't matter if you trade currencies, stocks, or other commodities. These activities are necessary if your goal is to succeed.
Stay tuned for more trading tips and tricks and improve your skills with FBS!