Barcelona – Trade & Travel Getaway
One of the determining reasons why thousands of people around the world start trading is flexible working hours. If in the past you were waking up in a funk heading to the office like a robot or were struggling to earn extras at odd jobs, Forex trading can become refreshing since the vacation options are open for you any time, any season. And what is more, you can afford it.
Since the official announcement of our partnership with FC Barcelona, we cannot stop talking about it, but today it is not only about the team but mostly about their home city – Barcelona. It turned out to be a suitable place to combine your daily trading routine and a well-deserved vacation.
Travel to Succeed
While you are still having doubts about leaving your country for an unforgettable trip, I am putting more and more arguments in favor of it. The scales are tipping right now!
Trip at No Cost
With FBS, the journey to Barcelona is FREE! In case you missed it, from January 28 to March 17, FBS is packed with contests tightly. All of them are for adventurous traders/partners and bold travelers who want to open up the world, meet inspiring people, seek opportunities, and who adore football.
As a client, you can join the Winning Season contest. Deposit and trade as you always do, but use an FC Barcelona account for all your activities. Once your total deposit amount goes over $300, and you have 2 traded lots at hand, you enter the race. Prove to be among the Top 5 of the most successful traders and pack your things. Don't forget a hat – it is sunny in Catalonia!
Ok, lucky devils, this contest is for you too. Even if you are not on the 'medal stand', you can still go. You get a 6-digit number that will take part in a lucky draw, which may eventually take you to Barcelona.
You can increase your chances of winning even more. Participate in the IB Match if you are a partner or in the Copy Challenge in the CopyTrade app.
All the VIP options are included in the trip, just like we love it. The round-trip flight and 5-star hotel stay are all on us. It is spiced up with the event to-tell-your-grandchildren-about - the FC Barcelona home-game + a tour around Camp Nou and Barça Museum.
Well, now I cannot help searching for a ticket to Barcelona myself. The thing is I cannot get the trip for free, while you CAN!
Trade-Free Day at the Bogatell Beach
Let the city of Barcelona become your zen space. We all know how frustrating and stressful trading can be at times. So, when you arrive, give yourself a break. Go to the Bogatell Beach – a clean and calm seaside escape that's only a 15-minute walk from the Bogatell metro station.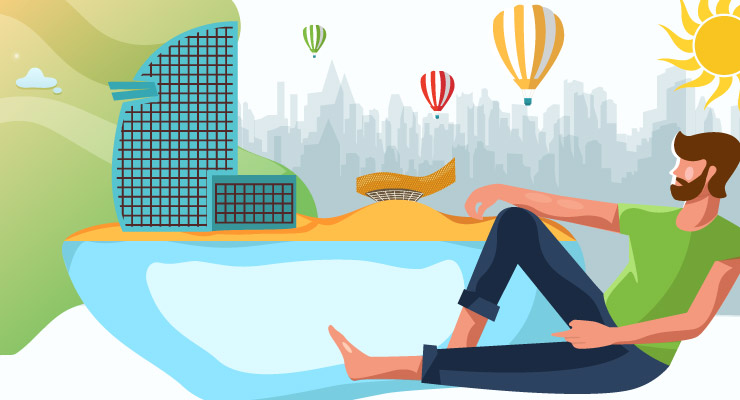 May the sound of light waves be the only background noise that bothers you. Think of nothing! Pure nothing. Disturbing thoughts about market volatility are banned on this relaxing day. Meghan Markle and enjoy a tranquil vibe.
One day of chill without trading may be enough to calm down and remember the feeling of joy the success at the market may bring. Trading can wait.
Don't force it - it is not worth it.
Dreaming big
Sagrada Familia is genuinely an absolute must-see in Barcelona. Antonio Gaudí, a renowned architect, started the basilica in 1882, and up to now, it is under construction. He devoted 44 years of his life to meticulously following his initial blueprints and ideas. Unfortunately, Mr. Gaudí was not able to see his grandiose life-project become a reality. But he could dream big, even giant, I would say.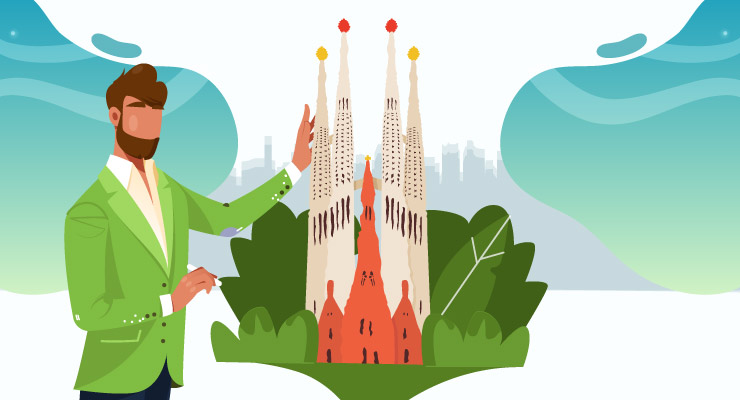 It is a great trading lesson for you. Aim at ambitious goals but manage risks wisely if you want to fulfill them on time.
Anyways, buy tickets online in advance and see Sagrada Familia. You'll be struck by its boldness, the abundance of details, unconventional interpretation of Christian saints, naturalistic architectural elements, playfully-shaped windows, and extraordinary color and light patterns on the walls inside. The building is unique, with no references in the world.
Keeping Up with Trading Hours at the Montjuïc Castle
After a flight, you might get a bit confused about the time. As a result, your usual trading routine may suffer. It is high time you set your watch right not to miss the opening and closing hours of the financial markets.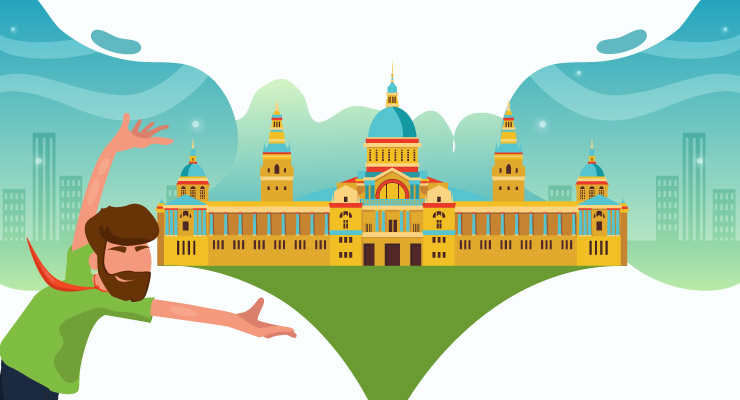 Why not mix business with pleasure? You need a clock. Montjuïc Castle has a rather untraditional one – it is a sundial. The most reliable clock from the 20th century. Why not try it old-school style? Apart from this, the place features magnificent views over the city and the Magic Fountain of Montjuïc – a spectacular mix of water and color at night.
With your watch set right, you'll manage to both trade and spend a beautiful day on top of Barcelona.
WiFi Challenge in the Gothic Quarter
Any trader-traveler needs WiFi. Fortunately, from 2015 free internet is available on the buses, at metro stations, and most public parks. The plans are to expand a wireless network to municipal markets and at the port.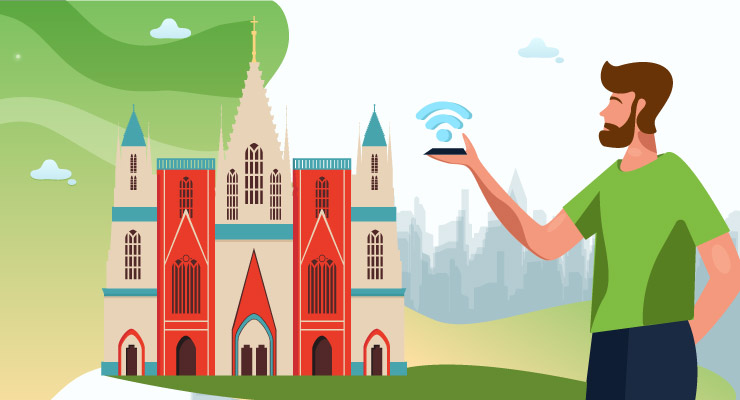 What if you are in the Gothic Quarter and the oil price suddenly grows? You need to take action on the go! The district is famous for being the oldest part of Barcelona, which means you have to deal with a different kind of net – the one made of narrow streets, mysterious alleys, tiny passageways. Though on an average day, you would willingly allow yourself to get lost and enjoy the history, as a trader, you should always stay vigilant.
To have WiFi available at all times, hire a portable WiFi device. You pay around 6 EUR per day for it and can be sure you are controlling the market and can make a bold market decision when the time is right.
Once you satisfy an urge for trading, go back to sightseeing. Visit the Barcelona Cathedral, Plaça Reial, stroll around the old Jewish area El Call and shop at the Portal de l'Àngel pedestrian street.
Learning Leadership at Camp Nou
The top football fan pilgrimage destination is Camp Nou. The stadium is huge! It the biggest in Europe, covering a surface area of 55,000 square meters with a capacity of 99,354.
The feeling inside the stadium is breathtaking. Imagine how many careers were built right in the heart of it. This place holds incredible energy from each game and people who visit it daily. I am only an occasional fan, but cannot stop goosebumps.
Don't forget that the VIP trip from FBS includes a tour of Camp Nou and a visit to the FC Barcelona Museum. The latter holds the club's trophies and memorabilia and tells the team's history in a spectacular interactive audiovisual area. It is the ideal place to be inspired by success stories and learn from the most prominent football leaders.
In a Nutshell
When you travel and trade, your perspective of what's possible shifts to infinity. Travelers tend to be ambitious and adventurous people who are not ready to settle down and be satisfied with a steady yet boring job. You may find soulmates on the way.
To meet people who made their dreams a reality is a revelation. Somewhere in Barcelona, a trader may be thinking about buying a house at the seashore. Imagine you meet this person and ask for his/her success pill. You'll never get that if you sit on your sofa, trading in a comfort zone.
Be bold and use the opportunities that are right under your nose. Use your FREE chance to see Barcelona and an unforgettable game by one of the best teams in the world – FC Barcelona. Only once-in-a-lifetime experiences make us grow and dream big.
Think about it – mild climate, beaches, paella… I bought a ticket, by the way.