Best Day Trading Laptops in 2023

What laptop do you need for day trading?
When discussing the requirements for successful trading, pro traders often mention having the right tools. A quality laptop is among such tools. A trader needs a good laptop just as much as an F1 driver needs a good racing car. A skilled driver may know everything about the theory and practice of racing, but it's all useless if they don't have a car to race. The same is true for trading.
Trading, and day trading, in particular, requires a constant connection to the Internet and your trading platform. Your laptop should easily handle this non-stop work and allow you to switch between different windows quickly.
In this article, you'll learn about your laptop's technical specs for successful day trading, external monitors, and why you might need them for the best trading experience.
Laptop for trading: technical specifications
Your laptop's ability to keep up with day trading depends on its technical specifications. They, in turn, depend on the components your laptop is built of – each has its function, and ensuring that all of them are up to trading standards is essential for fast and productive trading.
Speed
The first parameter we'll look into is speed. As you can imagine, having a fast-running laptop is crucial in day trading, as even a one-second delay can cost you money. For this reason, you should first ensure that you have a good CPU.
Simply put, a CPU (a central processing unit) is your laptop's brain. It's responsible for executing all sorts of commands you give your laptop. A good CPU allows you to open multiple programs and move smoothly from one window to another. Generally, if you're buying a laptop for day trading purposes, you should look for computers with a CPU of at least 2.8 GHz.
GPU
The next component you should pay attention to when choosing a laptop is a GPU (a graphics processing unit). A good GPU plays a vital role in how well you can see the trading data on your laptop screen. Even though a GPU is necessary for work, buying a gaming laptop with extremely advanced graphics is excessive and a waste of money.
Still, comfortable working conditions will require a better-than-average GPU with a lot of VRAM for higher-quality resolution. According to many traders, NVIDIA GeForce and AMD Radeon are good for day trading laptops.
RAM
RAM (Random Access Memory) is another crucial component ensuring smooth and fast day trading. RAM is a type of computer memory that is used to perform multiple tasks and run several programs at the same time. RAM allows using scanners, looking at charts, participating in chats, and reading news feeds all at once.
Because of this, traders should always pay special attention to RAM when buying a laptop. Different trading styles require different amounts of RAM, depending on the number of applications a trader needs to run simultaneously.
The amount of RAM you need also depends on your OS, so it should also be considered. But to be completely safe, day traders should go for at least 8 GB of RAM, though 16 GB would help your laptop run more smoothly.
It's also possible to expand your RAM if your laptop quickly runs out of it, but you should ensure that your laptop's motherboard has enough slots to store extra RAM microchips.
You can test whether your laptop's RAM is enough by opening all the programs you usually use while trading to see how your computer performs. If everything runs without any delay, then your current RAM meets the necessary requirements.
Storage
Storage is another aspect you need to take care of before starting trading. You need to know that installing all your programs and applications only on your hard drive will surely make your laptop slow down and lag.
Hard drives are essential for any laptop to function, but they are slow to sort through information. That's why you need to have an SSD (solid-state drive). A quality SSD can decrease the time it takes for your laptop to boot up and help your programs run faster, which is essential for day trading. Using external drives to store miscellaneous files can also help free up more space for your trading activities.
Battery life
Trading takes a handful of resources from your laptop. Running all these programs requires a lot of energy, so it goes without saying that you need a laptop with a good battery. When looking for a laptop, make sure it has a battery life of at least 8 hours. Otherwise, you probably won't achieve much in terms of productivity.
Display
Many traders don't care about the laptops' displays, which is a big mistake. Day traders need to keep an eye on a lot of information and charts simultaneously, so the display quality is crucial. That's why you need to pay attention to the display resolution of your future laptop. When choosing a trading laptop, look for a device with a resolution of 1920 x 1080 and a comfortable monitor size.
Ports
To optimize the trading experience, you will need many external devices, such as external drives, monitors, etc. That's why your laptop must have enough ports for all your devices. Before buying a laptop, check if there's an HDMI port (for external monitors) and various USB slots.
Wireless Connectivity
Although traders generally agree that connecting your laptop to a modem via a cable is much better than using Wi-Fi, not everyone has this opportunity. That is why wireless connectivity features like Bluetooth and a Wi-Fi adapter are necessary. They will help you stay connected to the Internet and other devices, ensuring uninterrupted trading.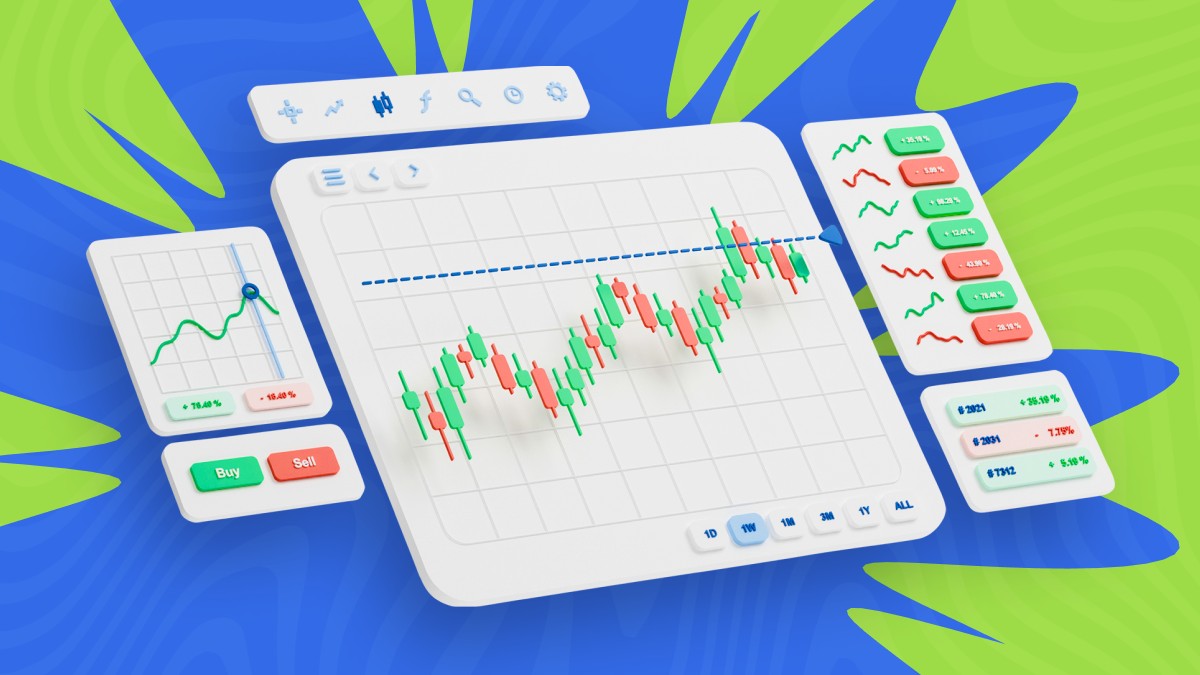 How Many Monitors Do You Need?
Some traders find constantly jumping from one window to another annoying. That's why many professional day traders use additional monitors to make necessary information more accessible.
It doesn't mean you need to buy ten more monitors. But generally, day traders use about four monitors during their workday. An example of a typical trading setup includes:
a trading platform monitor;
a news feeds/chat monitor;
a chart monitor;
a scanner monitor.
The main problem with having multiple monitors is finding ports to connect them to your PC. Some GPUs have a limited number of monitor inputs. So, if you plan to use multiple monitors in your trading, make sure your laptop can support them.
Where to Buy External Monitors
Buying a monitor can be pricey. Buying a set of monitors might just seem too much. But you don't necessarily have to look for ultrawide curved screens to make a trading setup. Instead, you can go for multiple affordable monitors with a lesser resolution or used devices.
Bottom line
Choosing a laptop for day trading is an important task. You can't steer a ship with holes in the bottom, and a weak laptop won't help you achieve much in trading. A laptop with hardware that meets modern-day standards will give you a comfortable trading experience.