How FBS Partners Can Earn with New Payout System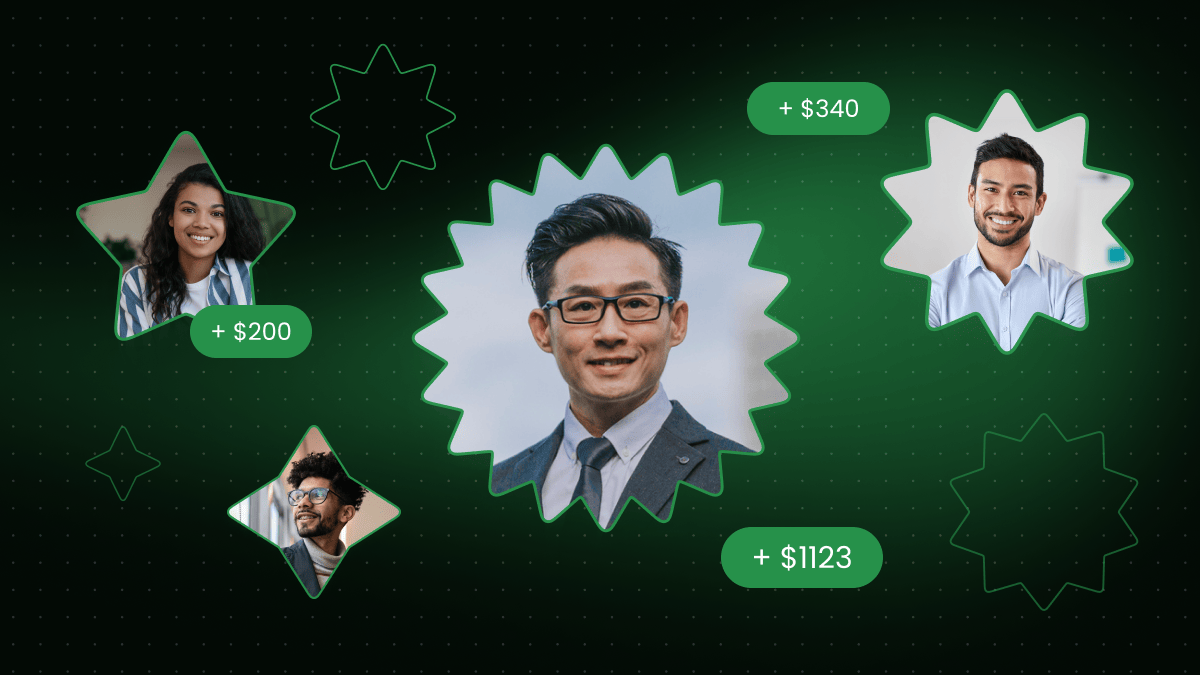 FBS Introducing Broker (IB) Program is a referral program that gives an opportunity for financial and professional growth. IBs attract new clients to trade with FBS via their individual referral links, and they earn when these referrals start trading. To make our partnership program even more effective, we introduced a new commission payout system.
Calculating IB commission
From now on, Partners receive a commission that is calculated as a percentage of the spread. However, it is important to note that this percentage varies among Partners and depends on their Grades within the program.
Watch a short video to understand the details and earn more with FBS.
For your convenience, select the desired subtitle language in the video settings.
Understanding Grades
There are six distinctive Grades, each representing a Partner's level of accomplishment within the IB program. The commission size increases with a higher Grade. To determine a Partner's current Grade fairly, we evaluate their average commission earned over the last three months. The percentage can be raised as Grades are recalculated monthly.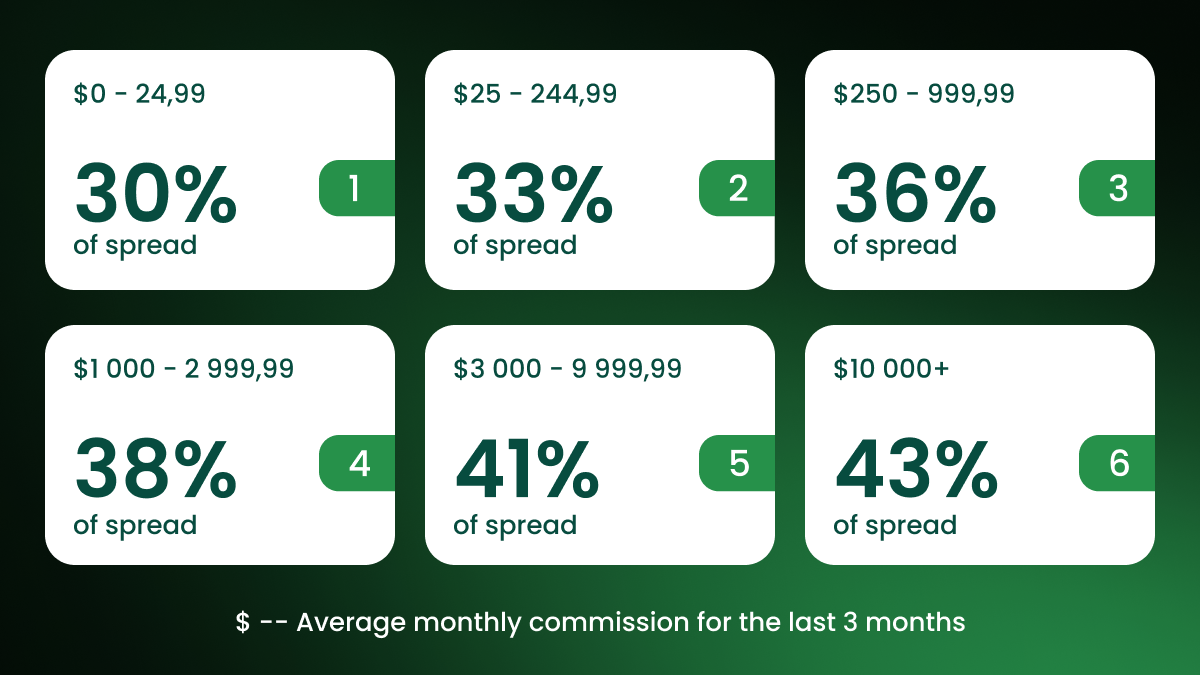 Perks of the new system
The new system ensures full transparency and control over Partner commissions. With this system, FBS Partners can now receive up to 43% of the spread from every trade.
The growth strategy becomes even more flexible as the commission size can be increased by attracting more clients or focusing on just 2-3 high-value clients.
The commission size aligns with invested efforts, with revamped conditions for Partners having clients with high-volume trading activity.
Increasing IB commission
As part of our commitment to providing clear conditions for our IBs, we are here to share some valuable tips on how they can earn more.
Encourage clients to diversify their portfolio
Inform clients about the trading opportunities available for derivatives like commodities and stocks.
Pay special attention to non-standard instrument CFDs, as the payouts for them are significantly higher. For example, recommend trading rare instruments like USDHKD, USDTHB, USDSGD, and others.
With the cancellation of the 59-point rule, the average payout for XAUUSD and other commodities has effectively doubled.
For every $1 a client trades on stock derivatives, a Partner will earn, on average, 10 times more than if a client traded $1 on EURUSD. Moreover, FBS has added 300 stock-based instruments and canceled commissions on them, providing more opportunities for clients.
Encourage clients to explore indices like US500, US30, JP225, and others, as the payouts for these indices have increased by more than two times per lot.
Exploit additional resources in Partner Area
Partners have access to online advertising materials, referral links to track their performance, and educational information in their Partner Area. These resources will expand opportunities for our IBs.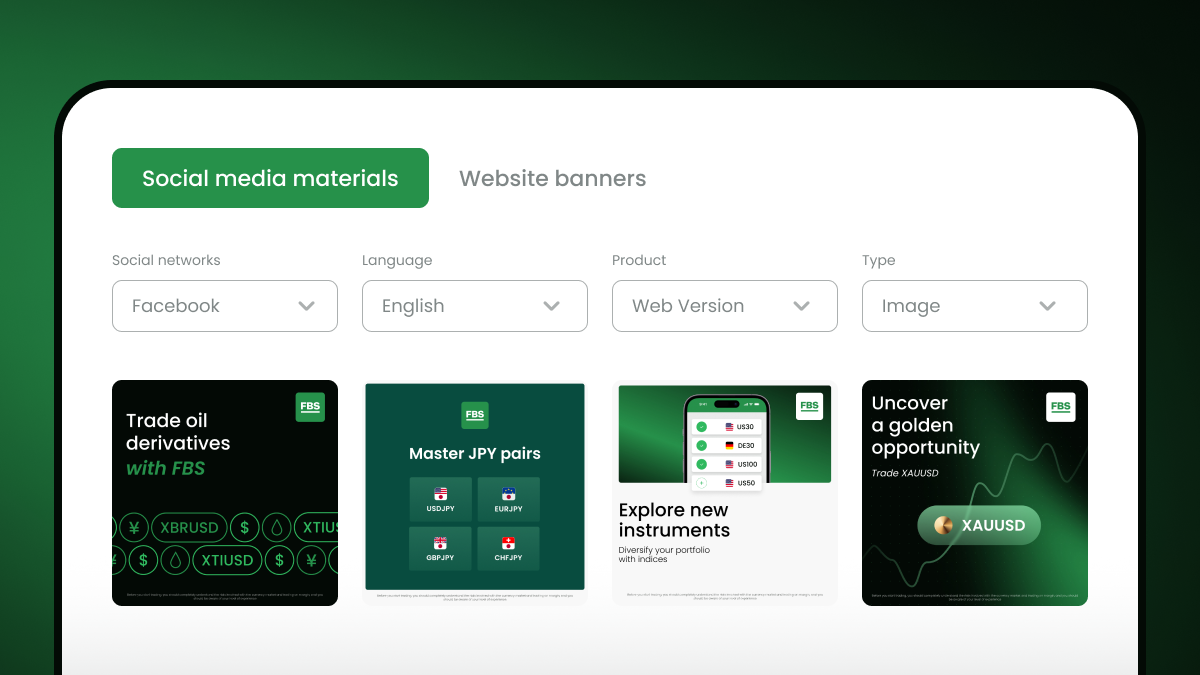 Final thought
FBS aims to provide IBs with a rewarding and transparent partnership program. The new commission payout system presents even more opportunities for growth and success in their trading journey with FBS.