How Much Is a Gold Bar Worth?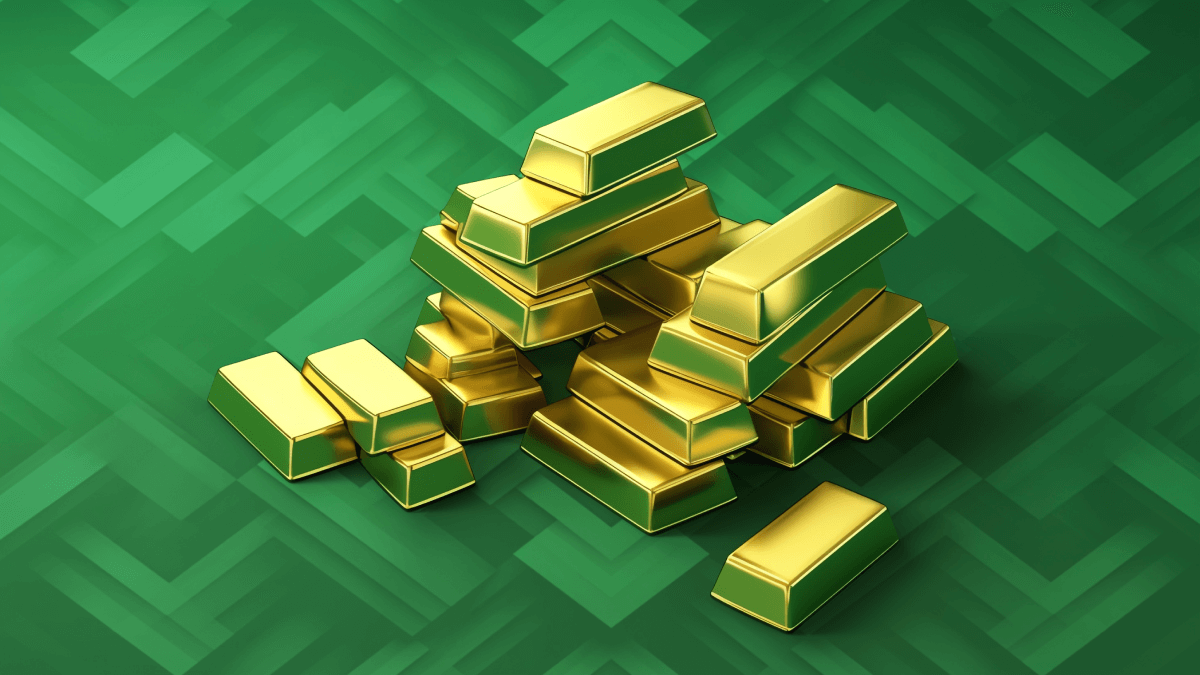 In times of economic hardship, it is hard to foresee which assets will rise in value and which will suffer price depreciation. Many investors and traders relocate their funds to assets less susceptible to a decline. Gold is one of these assets.
In this article, you will learn why gold is still in demand, what a gold bar is, how much it's worth, and what other types of gold are available for trading.
Gold as a safe-haven asset: a brief overview
Since time immemorial, gold has been an integral part of human economy and culture.
Ancient civilizations used gold to create decorative jewelry and artifacts. As time passed and the first international trade relationships were established, gold became a medium of exchange, replacing the barter method that had been used previously. Soon after, the first gold coins were created to facilitate trade.
Throughout the history of humankind, the popularity of gold never wavered. А unique precious metal, gold was highly valued around the globe. Even after the volume of international trade had grown so much that there weren't enough gold coins in circulation, gold became the basis of the Gold Standard, which allowed governments to link the value of their currencies to a fixed quantity of the yellow metal.
Although the Gold Standard was eventually abandoned, this precious metal has retained its relevance. Gold jewelry is still considered a symbol of wealth in society, and many countries maintain significant gold reserves to protect their national currencies. Even central banks buy gold to diversify their reserves when the need arises.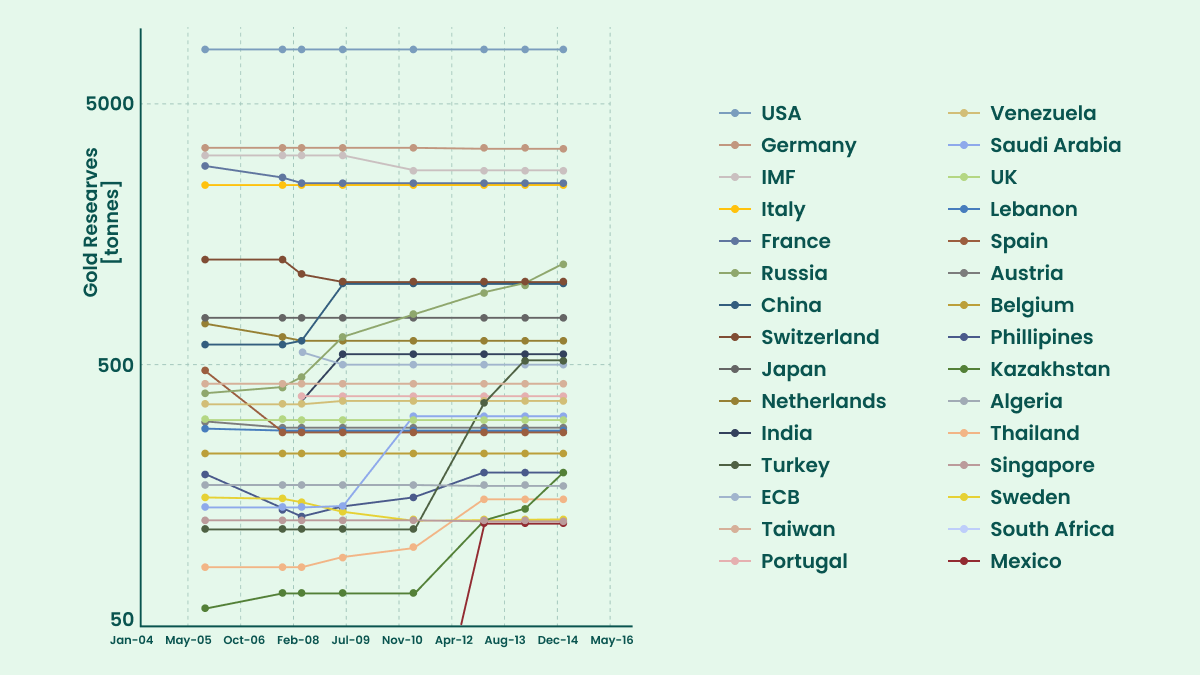 Change in gold reserves, 2004–2014. Source: KhassenY, CC BY-SA 3.0, via Wikimedia Commons
Gold has a wide range of applications, from jewelry making to dentistry, and even electronics. At the same time, gold is a physical commodity with a limited supply and high intrinsic value. It's no wonder that the demand for this precious metal has risen over time. The value of gold only continues to grow, even in times of economic instability. That's why many institutional and retail investors buy gold to hedge against potential inflation and currency devaluation, making it a popular safe-haven asset.
What affects the price of gold
While the price of gold has increased over the past decades and centuries, it still experiences short-term fluctuations just like other assets. If you plan to invest in gold, you should learn what may affect its market value to avoid getting caught off guard.
Supply and demand
Gold is a precious metal, so its supply isn't depleted like most other commodities. All the gold that has ever been mined can potentially enter the market at any time. Still, gold is a commodity with a limited supply because the deposits of gold on the planet are finite. It cannot be artificially replenished (unlike paper money), and the production of gold is a complicated and costly process, so the oversupply of gold is almost improbable.
With the advance of technology, the demand for gold has also increased. If the demand exceeds the current supply, gold's price rises significantly. Of course, it also tends to go down as demand goes down, but not by much.
Inflation
Inflation doesn't impact the value of gold directly. However, investors tend to buy gold to protect themselves against rising inflation expectations and looming currency devaluation. This increases the overall demand for gold, driving its price up.
Interest rates
Generally, there's a strong negative correlation between gold prices and interest rates. When interest rates are high, investors prefer interest-bearing assets such as bonds, deposits and dividend stocks, which provides significant support for the currency and puts pressure on the price of gold because it does not provide constant payments. This means gold and other safe-haven investment options become less appealing to investors, which causes their prices to decrease.
All in all, there are lots of factors that can affect gold prices. However, the main thing that directly impacts the value of gold is supply and demand. Other events described above have mostly indirect effect on gold's price and market sentiment towards the metal. Consequently, they don't always lead to changes in the market value of gold.
Gold bars as investment options
Once you have decided to buy gold, you should consider the form and type of gold as your chosen investment option. For instance, long-term traders and investors prefer storing their funds in gold bars.
A gold bar is a piece of gold that has been melted and then cast or minted into a brick-like shape. Gold bars are produced by government agencies or private companies. They must follow a strict procedure to ensure each bar contains as few impurities as possible.
Not all gold bars are the same. They may differ in weight, size, style, casting method, and purity. All of this can affect the market price of gold bars.
How much a gold bar weighs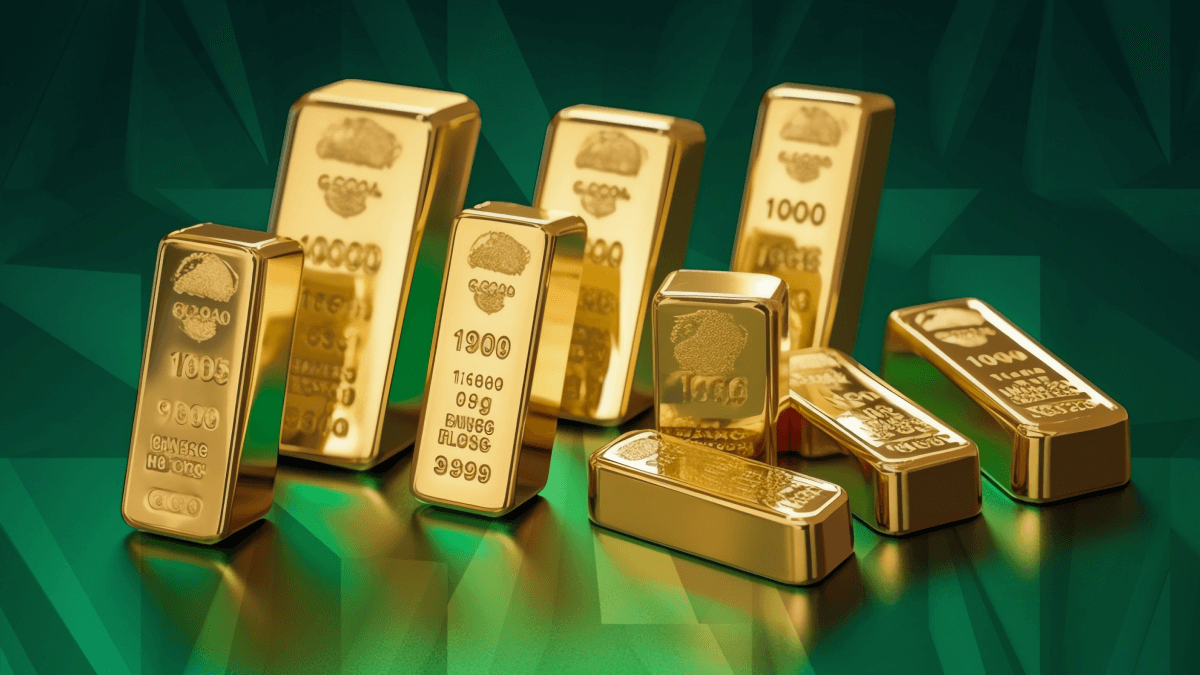 Gold bars come in various weights and sizes. In trading and investing, live gold prices are mainly calculated for one-ounce gold bars. However, the weight of a gold bar can range from only one gram to one kilogram, with some even weighing around 400 ounces.
How much a gold bar is worth
The value of gold bars depends on many factors. But generally, a gold bar's market price is determined by its weight, style, and purity. Buyers also have to pay a premium to a manufacturer for producing gold bars, which is added to the spot price of gold.
At the time of writing this article (August 1, 2023), a one-ounce gold bar costs as low as $2,038.
Gold bars vs. other types of gold
Apart from gold bars, you can also consider buying the following types of physical gold:
coins, which are minted and given value by governments;
jewelry, which is technically the most popular type of physical gold available for purchase, though people rarely buy it intending to use it as an investment option;
ingots, which are a type of gold bars produced by pouring molten gold into a mold;
rounds, which are shaped like coins but aren't sanctioned by governments.
Still, gold bars are more popular among traders and investors because they contain at least 99.5% of pure gold and come in different weights, allowing buyers to buy precisely as much gold as they want.
How to buy a gold bar
Gold bars can be purchased from reputable gold dealers online or in person. You can also buy gold bars from banks. However, remember that gold bars are physical objects, and you need space to store them safely. Because of this, you might have to spend additional funds on renting a vault.
Apart from physical gold, you may also consider trading gold ETFs, futures, options, stocks of gold mining companies, XAUUSD, and other financial instruments associated with gold.
Summary
For centuries, gold has played an important role in international commerce and economy. Even now, it is considered one of the most valuable commodities. No matter how much time passes, the price of gold only continues to rise. In modern times, gold often serves as a safe-haven asset for investors all over the world. If you want to diversify your portfolio and hedge against potential risks, buying physical gold, especially gold bars, can help you protect your money from devaluation.