Keep yourself well informed with FBS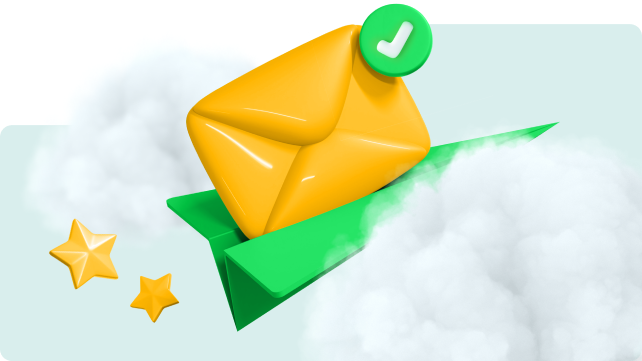 Recently, we have been receiving many inquiry emails from our clients. The most frequent request is to resend the emails that contain essential information and the latest updates.
As you know, it's quite common for marketing communications to end up in the spam folder. Today's article aims to help you deal with this issue. After reading the information below, you will know how to stay up to date with the freshest trading news.
How come I don't get important notifications?
Most email services put in much effort to protect users from misleading information. More often than not, this strategy is justified as the modern internet is basically full of fraud. Alas, the algorithms of email providers sometimes recognize even verified marketing communications as spam.
To fix this problem, you need to add our emails (info@e.fbs.news, info@e.fbs.direct and info@fbs-email.com) to your contact list. Read on and find out how to do it on various mail platforms.
Gmail
Log in to your account and go to 'Inbox'. Click on one of the emails and hover the mouse pointer over the sender's name. Click the 'Add to contacts' image in the pop-up window.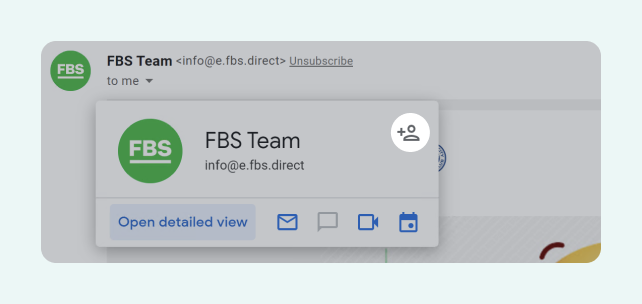 Yahoo!
1. Log in to your account, go to 'Inbox', and open an email. Click the three-dotted icon and choose 'Add sender to contacts'.
2. Come up with a name and type it in one of the fields in the pop-up window. Click the 'Save' button.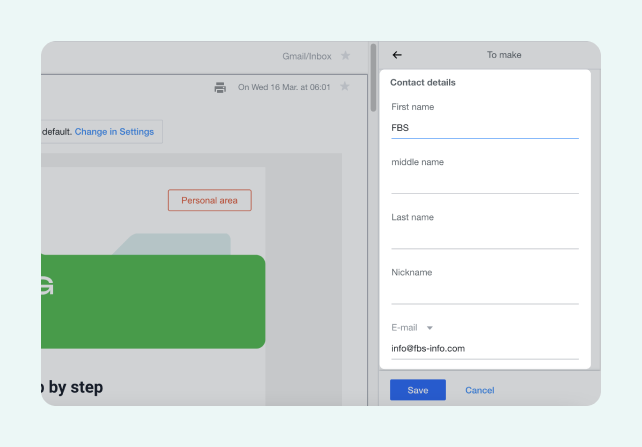 Outlook 2003 (and later)
1.Open an email so that the person's name is shown in one of these lines: 'From:', 'To:', 'Cc:', or 'Bcc:'.
2. Right-click the appropriate name, choose 'Add to Outlook Contacts'.
3. In the window that opens, fill in the details you want to save.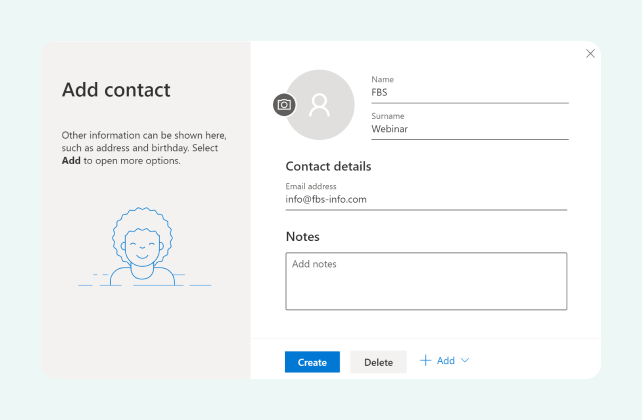 4. Select 'Save'.
MacMail
1. Choose 'Mail' on the toolbar and click 'Preferences'.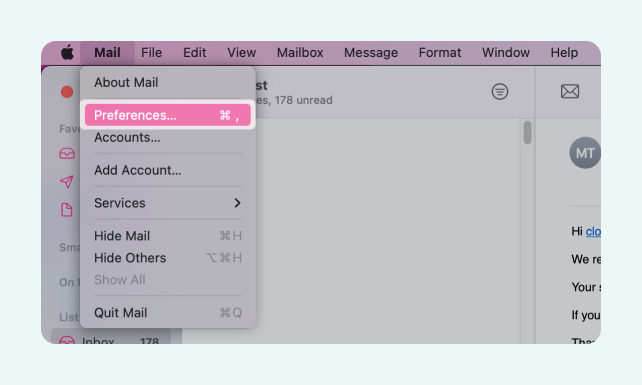 2. Click 'Add rule' in the pop-up window.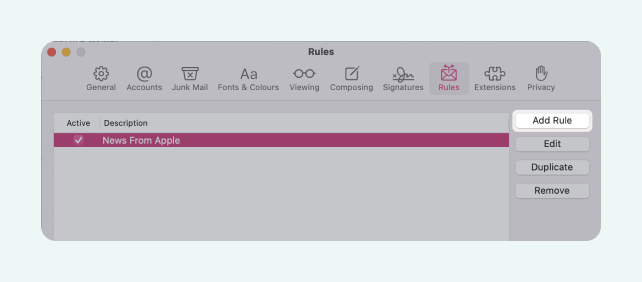 3. Think of a name and type it in the 'Description' text box in the 'Rules' window. Use the following settings: 'If any of the following conditions are met', 'From', and 'Contains'. Type in the required email address in the empty text box. Choose 'Move message' and 'Inbox' in the drop-down menu. Click 'Ok' to save the rule.
How do I manage the FBS notifications?
We care about your preferences. If you want to choose which types of emails you want to receive, you can adjust the notifications settings in your FBS Personal Area app or web account. In case you're using the FBS Trader and FBS CopyTrade apps, you can also adjust push notifications in your profile.
We hope this article was helpful. Now that you've learned how to operate the incoming information, you can make sure nothing essential will slip under your radar. Enjoy easygoing trading!