Success Story: The Amazing Stories of FBS Winners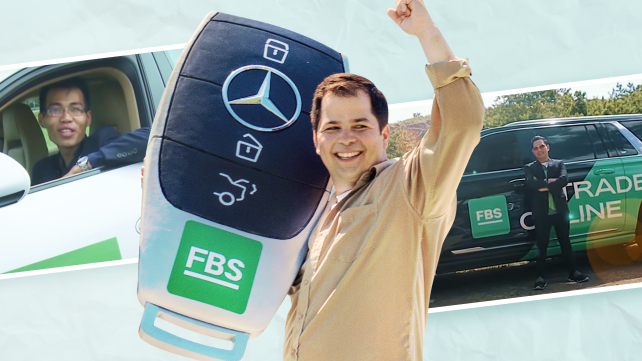 For more than 12 years, FBS has helped many traders succeed. But it's not just trading victories. FBS regularly runs contests to boost clients' trading activity and inspire them. In those contests, winning always comes with a story to tell.
A young Asian man takes a smartphone out of his pocket and swipes the screen looking for the right number in the contact list. A tap on the screen, a short wait for an answer, and he gets through to someone he's so anxious to talk to.
"Where are you?", the young man asks, and after a reply, he goes on, "I want to invite you for a ride in my new car. I just won it, though I didn't know I would until this day."
The guy's mouth widens as he smiles and exclaims: "She said 'yes'! Today is the happiest day of my life!"
The. Happiest. Day. Of. My. Life.
That's a great thing to hear anyone say. And it gets even better when you know that you have something to do with it. But this story is not about the ones making people happy. It's about those who get happy.
Like this guy, Nguyen Minh Huy from Vietnam. In 2014, he took part in the FBS Auto Cup contest and actually won Porsche Panamera. The day he got his prize, he drove up to Thao, a girl he always wanted to ask out, and the two had a perfect date. And that's just one of the fantastic stories of FBS winners.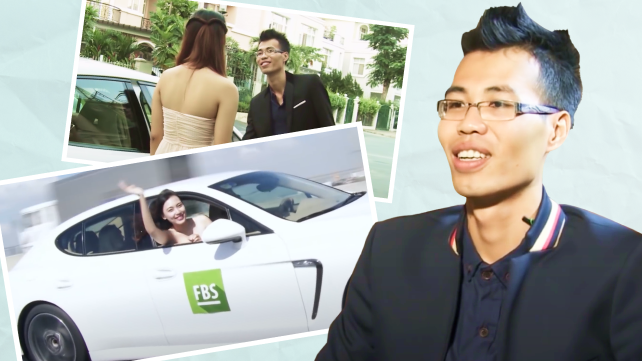 With a single step
"I was just looking for an opportunity to invest, and then I saw a 100% bonus promo from FBS," says Nguyen, a freelance tour guide at the moment, as he reminisces on how he got started trading.
Making a start is always a challenge, especially when you're up to something you've never done before. But you know what they say: a journey of a thousand miles begins with a single step. That is what all FBS winners have in common – they all had their first steps.
Some go all in, creating several accounts and trading big right off the bat. Some take it easy and choose to play safe. Nguyen did exactly that when he took a minor bonus and decided to give it a try. As trading proved to be "the real deal" and the first profits came, Nguyen got more confident in what he did.
And then, there came the contest.
A happy turn of events
2014's Auto Cup was one of the first FBS contests to offer luxurious prizes to participants. A trader had to deposit $500 and trade a certain number of lots to join the contest. Winners would be chosen in a raffle a few months after the contest started.
"Frankly speaking, I just saw the announcement of a new contest. I didn't read too much into it. I just registered," Nguyen recalls and says how amazed he is to have won the prize.
When Nguyen got a call saying that he had won a luxurious car and it was waiting for him, all the guy could say in response was, "So I can just take it?" That's a funny thing about winning – we all want to win, but when that happens, for a few moments, it seems unbelievable.
Nguyen, however, was not the only lucky one to win big with FBS. Let's drive down memory lane to look at more inspiring success stories.
The gallery of winners
Meet Mohammad Agus Soleh Kafabillah from Indonesia. He is the winner of the 2016's Get BMW X3 lottery.
Coming from a family of traders, Mohammad didn't rush. Instead, he opened a Demo account with FBS in 2012 and started practicing. This tactic paid off well. In just a couple of years, Mohammad got experienced enough to trade for real, becoming a full-time trader.
Winning a BMW X3 in 2016 was a fantastic experience for Mohammad. Being the only one of three million participants to get lucky can really blow one's mind.
Another lucky trader comes from Malaysia. Mohd Azmi Bin Mohamed Mokhtar won the Mercedes from FBS contest. His lucky number was drawn during the online raffle in 2017.
Mohd had been trading with FBS for just over one year when he took part in the contest. The story gets even better since that was Mohd's first-ever FBS contest, and he joined it without expecting much. So the man is really lucky.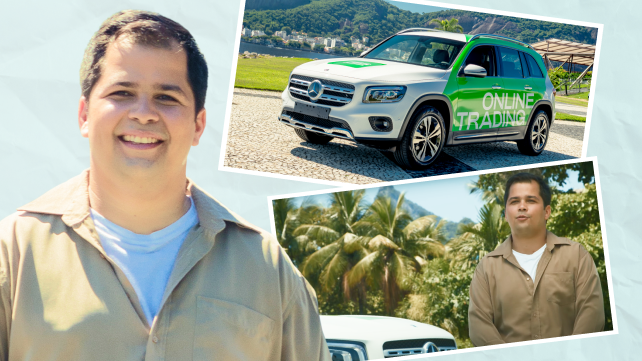 Ricardo Ferreira De Lima is the winner from Brazil. Ricardo had been trading with FBS for three years when he won a Mercedes-Benz in 2022. "I've heard about the contest from my trading teacher. It was simple. I had to make a post with an FBS image and get at least three likes… I had never dreamed of a car like that!", says Ricardo, adding that the prize was a perfect gift for a wedding anniversary.
Another winner from 2022 is Sherwin Umlas Gonzales, Philippines. Sherwin is an active participant in the FBS Loyalty Program. He joined it in 2019 and has been working to reach the Platinum status. It took him three years, making him the first FBS trader ever to hit the 50k point mark. His prize was a new Cadillac Escalade.
A self-educated trader, Sherwin made a long way to his success. He studied trading, made mistakes along the way, learned from them, and kept going step-by-step towards his goal. That's the main advice he gives all newcomers – take it gradually, don't rush, and never stop educating yourself.
Feel the joy and excitement of the FBS winners in the video. They shared their precious moments to inspire everybody to chase their goals and never give up.
Isn't it amazing how people from different parts of the world and backgrounds get to pursue their dreams and have them fulfilled?
Register at FBS Loyalty Program or via the FBS – Trading Broker app and take the first step along your own path of success!