Top 3 new books of trading for beginners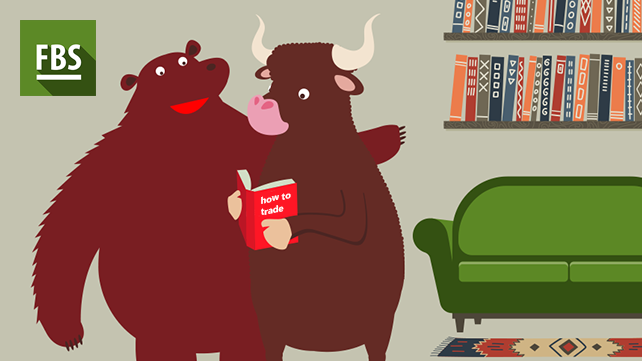 "A journey of a thousand miles begins with a single step," Lao Tzu declared centuries ago. However, when it comes to trading, this first step is quite a challenging and crucial thing. What to start with? Where to go to? Dozens of guide books explaining the basics of trading are published every year, and it's essential to keep a close eye at the new releases - new tips, tools, and strategies proven with time are added continuously.
We picked three recently released books on trading that are likely to assist you at the beginning of your Forex journey. At the moment, they are available only in English – yeah, that fresh! Don't want to wait or don't have time to read an entire book and are searching for something concise but the same useful? Look through our Guidebook, watch video lessons, or take part in a free webinar! Though it's not an either/or thing, right? ;) Let's get started!
"Forex Trading: The Psychological Bible of Currency. Simple Strategies for Beginners to Achieve More Success and Passive Income Every Day Investing in Fundamentals Markets (Swing, Options, Futures)" by Robert Stock (2019)
Forex is the real market. This is the simplest but central idea that the author bases his book on. You must be thinking that it's too trivial and wondering why you should pay attention to it. However, that very moment you start reading the first chapter you understand, that this truth is often not taken seriously enough.
Calling his book a "psychological Bible", the author states that the psychological aspects of trading and the attitude of traders themselves are not less crucial than the skills and the instruments you use. Moreover, the second comes out from the first. Thus, if you decided to enter the Forex market, you have to treat it objectively and be aware of what you are doing.
To tune in to the right wave, Robert Stock explains the psychology of trading and the way to develop a habit to think in advance. Surely, this is not all the content - all the basics, elements, strategies, and principles of analysis are illustrated in detail. As a result, it presents the combination of psychological tips and the facts well explained - an "explosive" mix that might be that fuel you need to reach success.
Do Stock's rules work or not, this book published in November 2019 was already appreciated not only by beginners but also by professional traders. It allows concluding - this is important to be always conscious while trading, no matter how experienced you are.
"Forex Trading for Beginners: The Best Techniques to Financial Freedom for A Living and Work From Home Using Simple Strategies, High Probability Method, Psychology For Forex Market bases, In The Zone" by Robert Zone (2020)
Robert Zone gave a fantastic New Year's gift to all the newbies in the FX world. The detailed guidebook on the basics of trading was released in January 2020 and has already been rated high. Well, it seems to be on merit – the information that the book contains is definitely useful for all the traders taking their first faltering steps.
The logic of the author is very comprehensive. First, you have to be positive about the things you are doing. It was your decision to start trading to enhance your life, right? If yes, please, enjoy your freedom and the fact you can do what you want to. This is the first criterion for becoming successful. If not, though, then what are we talking about here? We bet you got us, as well as the author, who is sure – negativity and misunderstanding of your goals do harm you a lot.
Second, being in the right mood, you will be ready to tackle all the challenges and will be aware of all the risks that the Forex market has in a significant number. Yeah, this is not a 100% secure area, and the earlier you perceive it – the quicker you will plunge into the world of trading. Zone gives the essential elements of t both technical and fundamental analysis, as well as scrutinizes the particular cases of trades to let you understand what is in store for you.
Finally, being positive, aware of all the risks, and knowledgeable of scanning the market, it becomes possible to manage your money and your time. As a result, profit from trading effectively. Sounds nice, huh? Thus, read this book carefully. The only chapter that might be left without your attention is the one on how to choose a broker. You have already found the best one ;)
"DAY TRADING for Beginners: A Guide To Investment Strategy. How To Create Passive Income. Become a Successful Trader and Start to Make Profit for a Living with Options, Stocks, Forex, Currency Trading" by Adam Right (2020)
Pssst, wanna get a regular and decent profit from trading every single day? Adam Right knows what you need. Wanna do it without putting any effort or developing your skills? Hmm, you better get a fantasy book – this one is of the other genre. Here one may find only the insightful basics of the day trading – real and working.
The author claims that these couple of hours that the professional traders usually spend day trading require weeks of practicing and trying out different strategies. This is the only way to find the key to success – exploring one technique after another, mastering them all, and finally choosing the most suitable one for you as a trader.
Surely, being a newcomer in the tricky FX world, you have to be careful. Thus, using a demo account is the best way to test all the day trading strategies. Reasonable advice, huh? Adam Right's book abounds with it – less than 100 pages contain all the relevant info, including the advantages and drawbacks of day trading, the technical analysis tips, the method of identifying the proper time to start, etc.
To sum up, this guide is recommended for those who do not shrink from learning and working hard and want to concentrate on day trading and master their skills. Looking at the surname of the author, you really want to give this book a chance ;)