What Quarters Are Worth Money?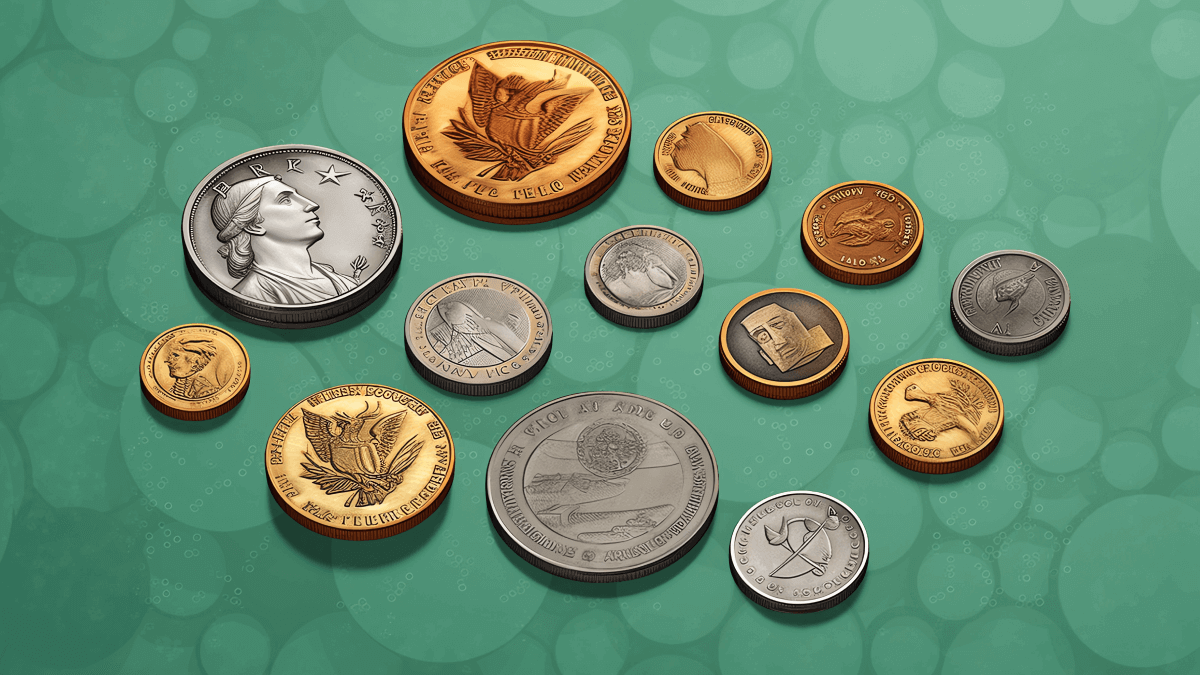 Quarters. Typically, people consider them small shiny coins we can swiftly throw into vending machines or parking meters. However, some of these little everyday helpers play a much more important role in the numismatic world, holding a hidden and significant worth beyond their face value.
Understanding the value of certain quarters is more than mere curiosity or the interest of collectors. It carries practical significance for all individuals. For collectors, recognizing the worth of specific quarters can help build a valuable collection, potentially turning a hobby into a profitable investment. For the layman, however, uncovering the unexpected, actual value of existing rare quarters may become outstanding discoveries that could alter their financial positions.
Whether you are a purposeful collector or intend to sort out your coins or purchase rare quarters as investments, this article will be helpful.
History of the US Quarter
The quarter is a coin in the United States currency system that holds a value of 25 cents, equivalent to one-fourth of a dollar. One of the largest denomination coins, the quarter dates back to 1796. Initially introduced in the late 18th century, the quarter has undergone significant changes over the years.
From the floating hair on the obverse side and small eagle on the back, quarters evolved into the legendary Seated Liberty and Standing Liberty designs of the 19th and 20th centuries with big eagles and indication of value. In 1932, the famous George Washington design by John Flanagan became the standard, and it has remained almost the same since then.
However, in 1965 the material composition of the U.S. quarter significantly shifted from the traditional 90% silver composition to copper-nickel alloy with copper core. The decision to transition away from silver was initially driven by economic factors. Rising silver prices, with a growing demand for silver coins, made it very expensive for the U.S. Mint to issue the quarters with their traditional silver content. That's why the authorities adopted a new, less expensive copper-nickel-clad composition.
Since then, the material composition has been more or less consistent. However, there may be occasional special edition quarters made of various materials different from standard ones. Such exclusive editions usually memorialize specific events and individuals or celebrate unique themes. Many collectors seek to purchase a quarter of a limited edition as these coins demonstrate the outstanding craftsmanship and creativity of the U.S. Mint.
Factors that determine the value of quarters
The value of quarters can vary a lot, depending on several factors. Whether you are seeking to purchase valuable quarters for your collection or intend to invest, understanding these factors and using them in your coin assessment is essential. Here are some of them:
Rarity. Rare quarters, particularly those with limited mintage numbers, tend to have a higher value on the numismatic market. The rarity refers to specific editions, low production numbers, or errors in production. Yes, such errors as doubled dies, die clashes, or misaligned strikes make quarters unique and increase their value!
Condition. The quarter's condition is a crucial aspect in determining its value. Coins without damage and with less wear will definitely have a higher value and increased demand.
Mint marks. Quarters produced by different U.S. Mint facilities have different values. Coins minted by facilities with lower production numbers are more desirable in the market.
Popularity and demand. The most popular quarters among the collectors have an increased demand and a higher value. Collecting trends focus around different features like historical significance, unique design elements, or specific themes.
Individuals should consult price guides and auction records to determine the value of quarters. These resources provide valuable information about recent sales and market trends, helping collectors understand their quarters' current value and potential worth.
Engaging with knowledgeable dealers or collectors is also beneficial. Their expertise and experience can provide valuable insights into the value of quarters.
The most valuable quarters
Let's take a closer look at some of the most valuable quarters known in 2023.
The 1796 Draped Bust Small Eagle Quarter
The first quarter was a Draped Bust with a small eagle on the back. The obverse side includes 15 stars which represent the states that had ratified the U.S. Constitution at that time. The coin's edge has bold denticles from both sides. There is no indication of value or denomination on the coin. About 6,000 of these quarters were minted, and less than 10% of this volume has survived to this day.
This quarter is considered one of the rarest coins in American numismatics. In 2022, the 1796 Draped Bust quarter in MS-66 condition was sold for over $1,740,000, proving its immense worth and desirability among collectors.
Depending on its condition, the 1796 Draped Bust Quarter may have a value starting from $1,000. However, the value of coins in better condition increases significantly. For instance, coins in Fine (F) or Very Fine (VF) condition can be worth several thousand dollars. Meanwhile, the value of quarters in higher grades, such as Extremely Fine (EF) or About Uncirculated (AU), may reach tens of thousands of dollars. A Mint State condition (MS), however, can boost the value by hundreds of thousands or even millions of dollars, like it did in 2022.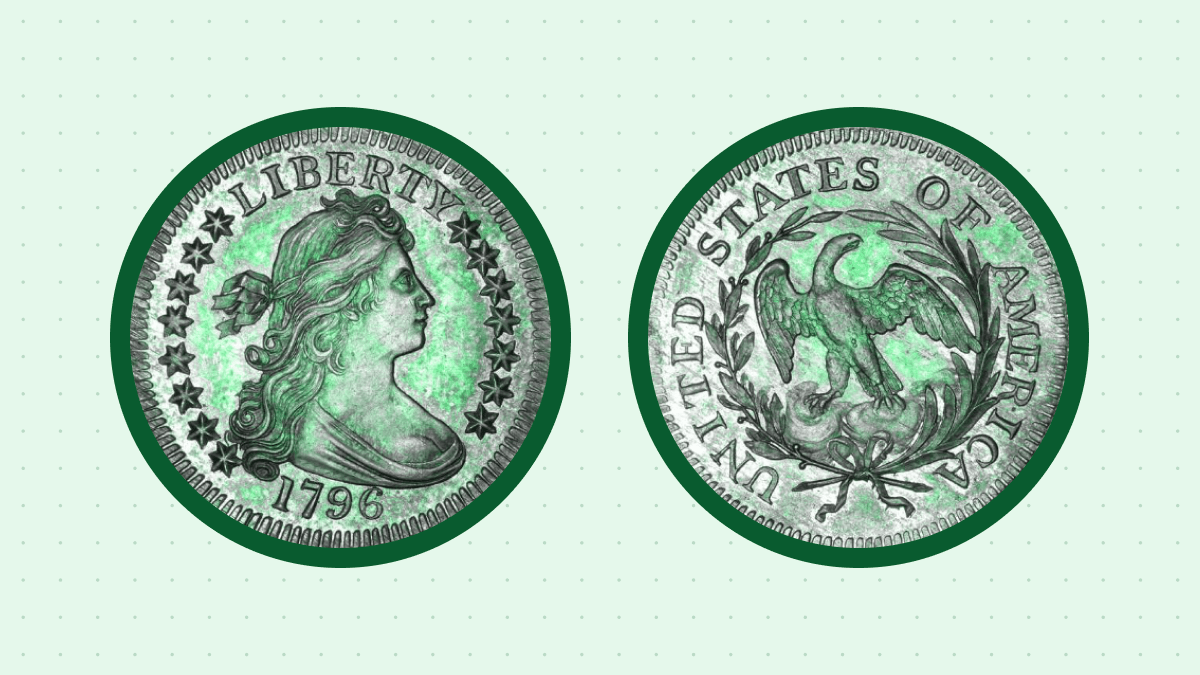 The 1804 Draped Bust Heraldic Eagle Quarter
The 1804 Draped Bust Quarter is a highly valuable and historically significant coin. While the design on the obverse of the coin is similar to the 1796 Draped Bust Quarter, the key difference lies in the illustration on the reverse as there is a heraldic eagle with its wings spread, clutching a bundle of arrows and an olive branch in its talons. Above the eagle is an open shield displaying stars and stripes.
The value of the 1804 Draped Bust Quarter in average condition (AC) is approximately $1,600. However, in better condition, such as MS, the price of this coin may be around $157,700.
The 1838 Seated Liberty Quarter
The 1838 Seated Liberty Quarter marks one of the earliest years of production for this series. The obverse side of the coin illustrates Lady Liberty seated on a rock, holding a staff with a liberty cap on top. The coin displays an American eagle with outspread wings clutching arrows and an olive branch, symbolizing strength and peace.
These Seated Liberty Quarters were minted during a transition period when the United States Mint had started moving towards more advanced coinage technology. The 1838 edition is especially intriguing because of its connection to this developmental period.
The value of an 1838 Seated Liberty Quarter can vary significantly depending on its condition. These quarters may cost around $100 or less due to wear and damage in poor or average condition. However, their value can skyrocket to thousands of dollars when they are graded as being in mint condition.
During auctions, an 1838 Seated Liberty Quarter in nearly-perfect condition can reach an impressive value: it is possible for such a coin to be sold as high as $285,000.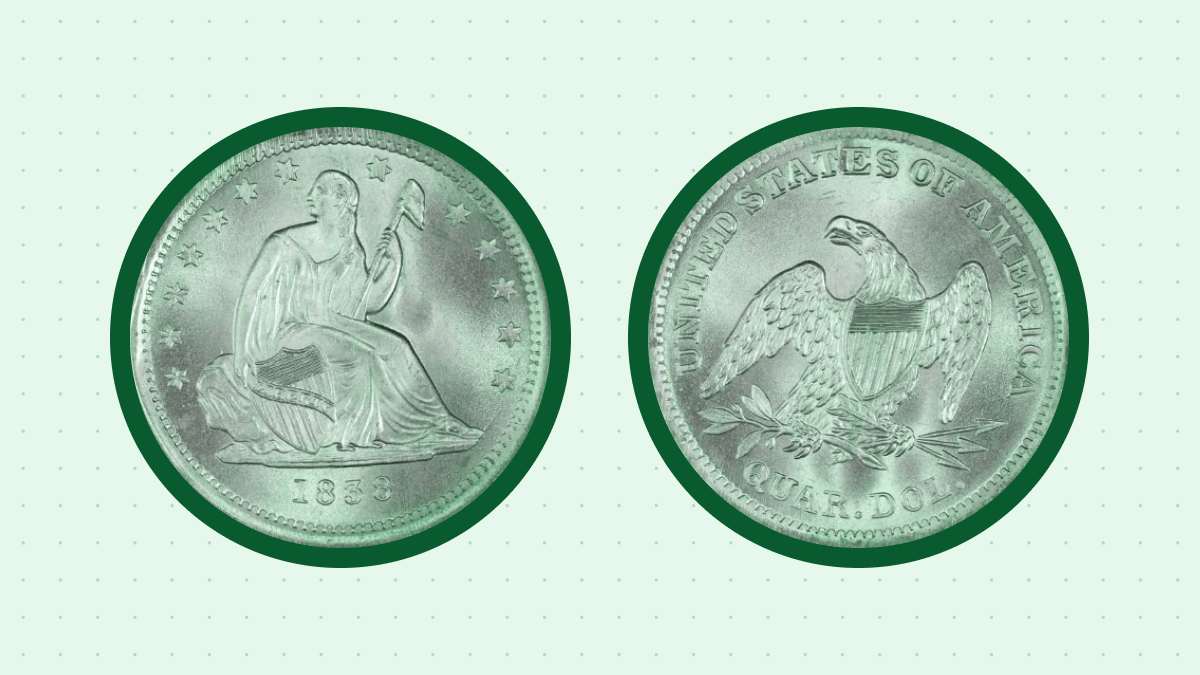 The 1916 Standing Liberty Quarter
The first quarter with no stars is the 1916 Standing Liberty Quarter. The initial design has a bare-breasted liberty on the obverse. In 1916, right after the mintage, this fact caused controversy due to the perceived immodesty of the image. As a result, the design was modified in 1917 to cover Liberty's breast with chain mail.
The 1916 Standing Liberty Quarters' total mintage is approximately 52,000 coins. This small number is one of the reasons why collectors consider quarters scarce coins.
The value of a 1916 Standing Liberty Quarter in average condition (AC) is around $2,800; in better condition, it increases to $18,000 or more.
The 1901-S Barber Quarter
The 1901-S Barber Quarter is an exceptionally rare and valuable coin minted in San Francisco. It is a part of the outstanding Barber series, known for its design illustrating a portrait of Liberty surrounded by 13 stars on the coin's obverse.
With only about 72,664 1901-S Barber Quarters ever minted, their rarity contributes to the high value of the coins on the numismatic market. Even in poor condition, these quarters may be worth thousands of dollars. In average condition, a coin holder can sell it for about $20,000 – $50,000. However, the price escalates significantly as the coin's condition improves.
One of the best-preserved coins of the 1901-S Barber Quarter ever discovered was sold in May 1990 at a Superior Galleries auction. Graded as NGC MS-68, this coin achieved the highest sale price of $550,000.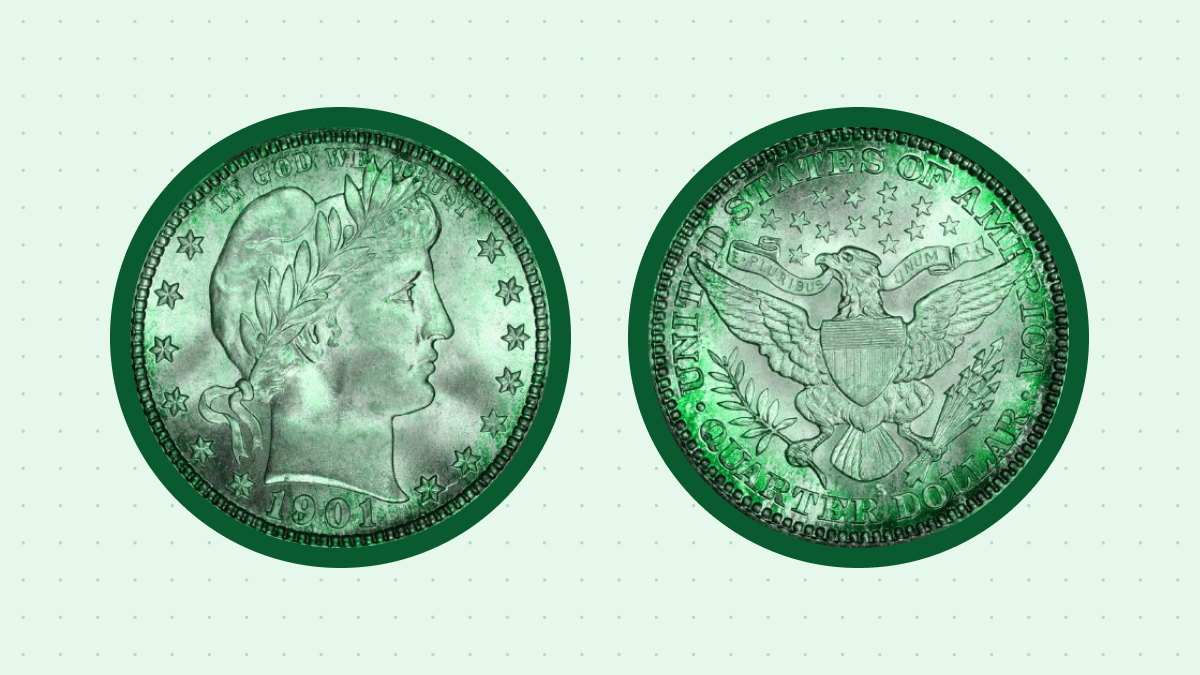 The 1932-D and 1932-S Washington Quarters
The 1932-D and 1932-S Washington Quarters are rare and historically significant coins that can sometimes be worth a lot. The quarters came into circulation in 1932, the year of the bicentennial of George Washington's birth. The mintage year of these quarters became the first year of the Washington Quarter series, which replaced the Standing Liberty Quarter.
The obverse of these quarters features George Washington's legendary profile, and there is a traditional national Eagle on the reverse. You can find mint marks such as "S" or "D" underneath the Eagle on the reverse of the coins.
The 1932-D Washington Quarter stands out as one of the key coins in the series. The "D" mint mark indicates that the coin mintage was in Denver, Colorado, in an approximate amount of 436,800 coins.
The 1932-S Washington Quarter bears the mint mark "S," indicating its production at the San Francisco Mint. Like the 1932-D Washington Quarter, the 1932-S version has a limited mintage, with 408,000 coins minted.
The value of these quarters can vary a lot. In poor condition, the coins can be worth around $200, while the value can reach thousands of dollars in mint condition. Coin owners should remember that in 2008, a 1932-D quarter graded as MS-66 was sold for $143,750!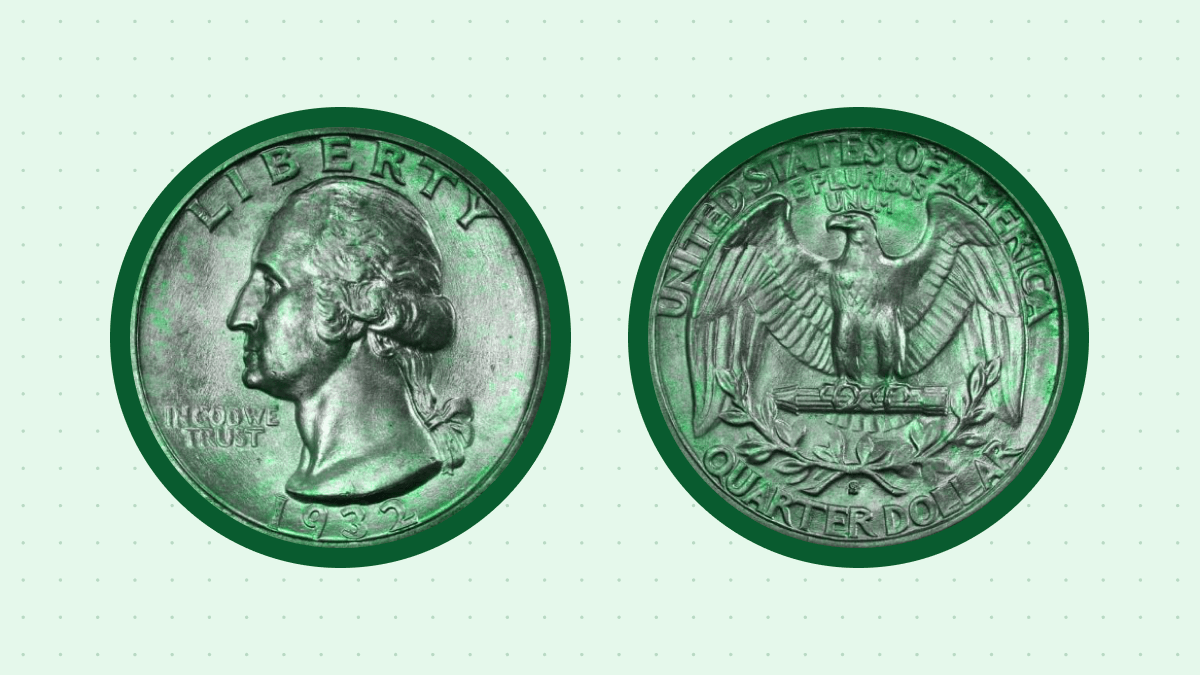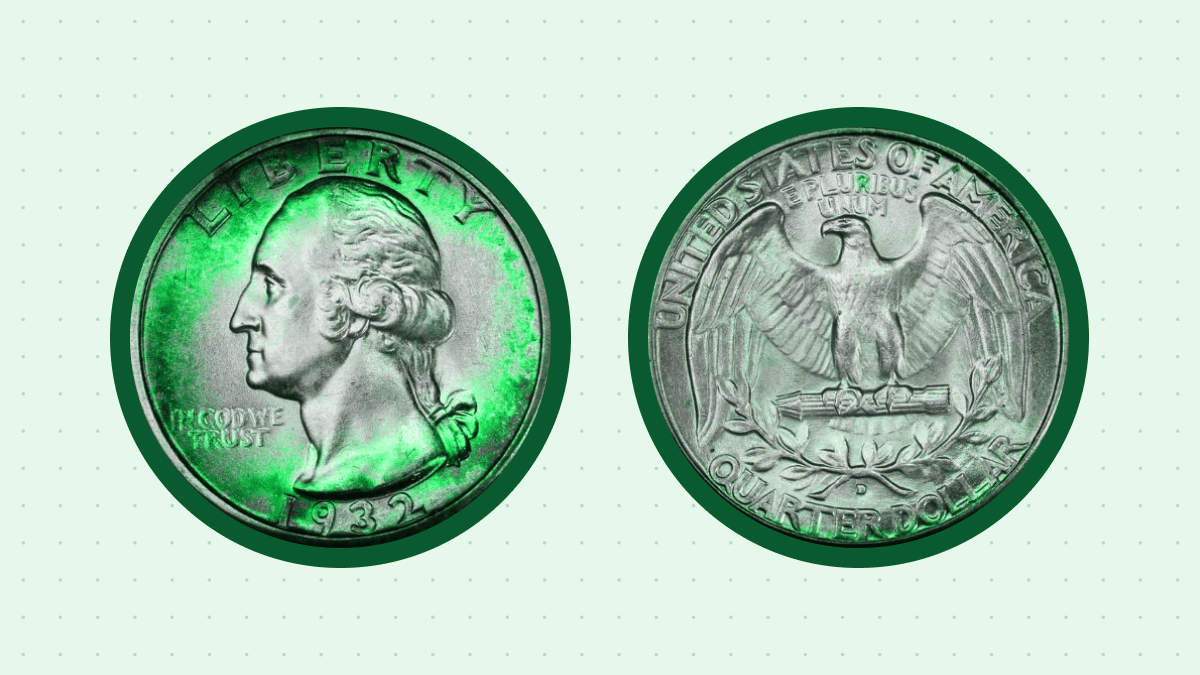 These quarters undeniably have a significant historical and numismatic value. Finding them means getting extremely lucky. True, the size of profit you can make on selling these coins depends on their condition. However, even being damaged or worn, these quarters bring a piece of the fascinating history of the USA into the present, and may stay an irreplaceable cultural heritage in your hands.
Places where you can sell your quarters
When you feel it is high time to sell the coins you've collected, it is essential to find a reliable and suitable place to do so. Here are some options to consider:
Coin dealers
Coin dealers are specialists in buying and selling coins, making them a reasonable option when you have many coins to sell and wish to get rid of your entire collection at once. However, when working with coin dealers, you may receive less than the actual market value of your coins. Coin dealers operate businesses with the goal of making a profit, purchasing coins for around 20% to 40% under their actual worth.
Auctions
Coin auctions provide platforms to sell your coins to a wide audience of collectors and enthusiasts. The auctions are an excellent option for those without time limits, ready to sell their coins one by one. At the coin auctions, potential buyers can bid on your quarters. This method usually allows higher prices for rare and valuable coins. The sellers should know that coin auction holders take flat fees or percentages from each transaction.
Online platforms
Sometimes it can be appropriate to sell your coin collection through reputable and time-tested online platforms that facilitate the buying and selling of coins. We highly recommend you not blindly use the popular marketplaces but explore the topic and find the best sites to sell your coins.
Numismatic exhibitions
These coin fairs allow you to demonstrate your quarters to a targeted audience. Attend as a seller, primarily securing a table or booth where you will be able to display and sell your coins directly to collectors.
Online forums and communities
Join online coin forums and communities to connect with like-minded collectors who may be interested in acquiring your quarters. These platforms allow participants to network, share information, and find buyers.
Summary
Quarters are the small keepers of American history that make collectors and enthusiasts pay thousands or even millions of dollars to purchase them. The history of coins whose face value is only 25 cents impresses and fascinates many people who dedicate their time to studying U.S. quarters in detail. Not only collectors, but everyone should know that some quarters may cost a fortune; one day, they may drastically change your life.
The value of quarters can vary a lot depending on such factors as rarity, condition, mint marks, popularity, and demand. To make a profit, potential sellers should pay specific attention to these price-affecting aspects and monitor the market. Moreover, it is vital to determine the right place to sell your coins based on your requirements and expectations.