What will happen to cryptocurrencies?
At the end of 2017, everyone was talking about cryptocurrencies, even people who never traded on the financial markets. In the recent months, however, the interest has declined.
How much will Bitcoin cost?
Where will the price go?
Is there any point in trading cryptos?
These are the questions you asked us and we are going to answer them in this article.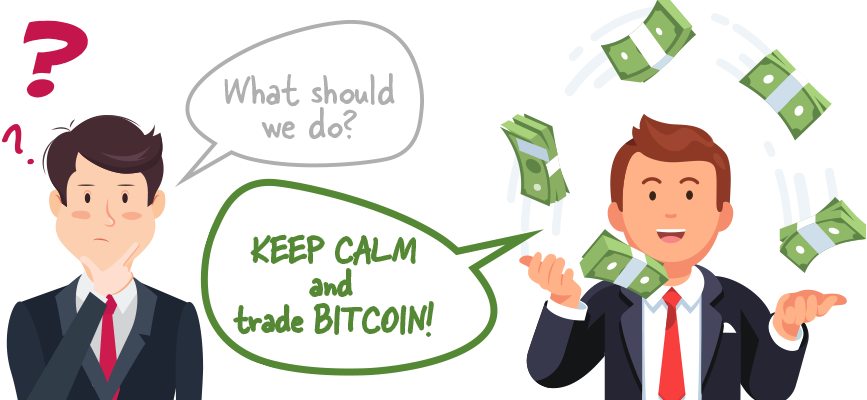 How much will Bitcoin cost in the future?
You may hear a lot of forecasts about the future value of Bitcoin. In reality, however, no expert can predict whether it will cost $1,000,000 in 10 years or just $0. The truth is that those who make such forecasts do this just to get in the news but they have no – and can't have – any real knowledge.
The most important secret about Bitcoin and other cryptocurrencies is that their fate depends on the success of the blockchain technology.
In short, blockchain is what allows to process and store transactions and issue digital currencies without a central authority – a central bank. It can lead to a real revolution in finance. However, whether this revolution will actually happen is still a big question. Maybe everyone will switch to blockchain, but maybe not – the banks and other large players are quite satisfied with the current technologies. So, blockchain and, as a result, bitcoin can either be the future or it may not. It's too early to say now.
What is the forecast for Bitcoin?
The distant future is not clear but it's not a reason for sadness. We do know that Bitcoin will remain in our trading terminals and we can gain by buying or selling it.
So, up or down?
Let's look at the facts. Many US traders were selling BTC ahead of April 17th, which was the last day to file taxes in America. Now interest in Bitcoin may once again increase. In addition, Bitcoin seems to act as a "crisis currency" and strengthen during the times of geopolitical uncertainty – and we may have plenty of that in the months ahead. There are still many HODLers – those who bought the cryptocurrency and won't sell it no matter what. This also provides some longer-term support for BTC.
Technically BTC/USD is trying to settle above the resistance line, which limited the upside since December. Levels around $7,200 and $6,600 will act as support, but if the price fixes below $8,000 the selling can bring it as low as to $5,000. On the other hand, if the price stays above $8,000 potential upside targets will include $9,600 and $11,600.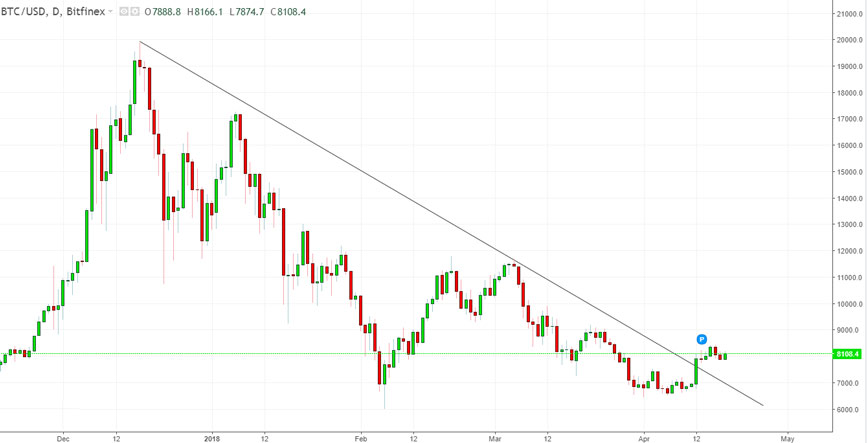 Is there any point in trading cryptos?
Here we gathered some of the reasons to trade Bitcoin (Ethereum, DASH, Litecoin, and others) with FBS:
Bitcoin continues to make great swings. Last month, bitcoin's price fell by 35%. In other words, cryptocurrencies have no rivals in how fast and how much their price changes. This, in turn, offers limitless trading opportunities.
Trade BTC/USD like any other currency pair you trade on Forex. You don't have to own Bitcoin to trade it. Buying cryptocurrencies at the special exchanges is not easy. You risk getting hacked and may end up with all your coins stolen. With FBS you won't have such problem: you can make short-term bets on Bitcoin and earn.
Technical analysis works for Bitcoin, Ethereum, DASH and Litecoin. Price action and indicators can provide good trade ideas. It means that you have great chances of making money trading cryptocurrencies if you analyze the market and follow the rules of risk management.
Trade cryptos even on weekends. Non-stop trading allows you to make money steadily.