Why aren't you a millionaire yet
A walkthrough for 5 levels on the way to a successful trading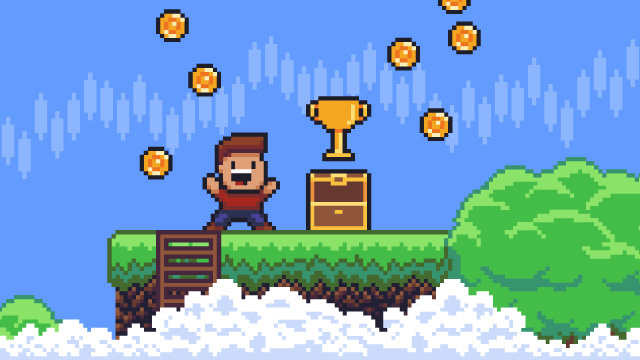 Everybody wants to rule the world – or at least to enjoy the life at its fullest, and often it requires money. Elon Musk can casually pop a bottle of champagne worth more than one's month salary, while others… well, can't do the same. In search of an additional income source many people come to trading.
Forex is surrounded by myths, misconceptions and concerns. Beginner traders start their quest to successful trading with 5 levels – read out walkthrough and get ready to earn!
The whole trading on Forex thing is too complicated and takes a lot of time
Technically, trading is quite simple. The whole idea, to put it the simplest way, is to buy cheaper, sell more expensive – but of course there are more things to take into account. And these things are usually the reason beginners get scared.
Nowadays trading doesn't look anything like "Wolf of Wall street" movie. In fact, it is an understandable process that everyone can master with a pinch of patience. Most of the traders need two or three hours in MetaTrader to actually understand the way it works. Add a little time for studying the basic trading instruments and the market itself – and you are good to go.
After you opened an account in FBS, it's time to open your first order in MetaTrader. The whole interface is quite easy to understand – especially when you have a guide.

I am doing fine on Demo account, but I am afraid to move to the real deposit
Demo accounts are a great way to make a first step, but you should remember that this account is not real. Therefore, you feel less responsibility for your demo deposit, less control of your actions – and all in all you perform in the conditions of training.
The real practice and real studying of the market lies in real trading. Only when you operate with actual investment and observe an up-to-date market changes, you can truly realize what trading is all about, how do you identify the indicators and when to perform to succeed. The mistakes are unavoidable – but natural and can be minimized by risk management and clever use of the information you possess.
In FBS we provide our new traders with a very useful and highly popular Welcome Bonus $50. This is a perfect way to get familiar with the market, MetaTrader and your broker company: get your free $50 and start trading without any initial investments. You have nothing to lose – but a lot to achieve.
A tip for beginner:
There's no common plan that is suitable for every person. To realize what is your most comfortable strategy, your goal and approach, start a trading diary. Put all the orders there, when you opened one and why, when you closed it, what indicator did you use to identify the right move. Mark the successful and unsuccessful deals and analyze them after: this will help you understand how your strategy works and if it needs improvements.

I don't have that much money, and that means I can't really earn a lot. Does it even worth the hustle then?
Forex trading has its bright feature: you can start with any initial investment, and small investments have their advantages as well. Reasonable investments will allow to gain experience, and even develop psychological resistance to losses.
What about the possible sum of profit – this can be easily solve with a decent leverage. Here in FBS we provide our clients with the highest leverage on the market – 1:3000. It means, you can open orders 3000 bigger than your initial deposit. You can start with a smaller sum, but yet perform successfully on the market.
In FBS you can choose your perfect type of account, the one that suits your needs the most. Check out the 5 of them and use the full power of the benefits you get.

I tried, and I failed a couple of times. Maybe it's not "my thing"
The main law of Forex is "think before do". Once you get into studying Forex, you'll be fascinated of how the strategies work and how indicators are influenced by so many things in the outer world – the whole logical chain of the market is really intriguing.
But be careful: sometimes traders get so overwhelmed with information, they lose the main point – finding the exact right moment for opening and closing the order. Don't try to use all the strategies you learn about: choose one to understand it and work on it, and then move on, if needed.
Here are some tips:
· Hone your skills and systemize your knowledge: FBS holds numerous free trading seminars all over the world to help traders learn how to be successful on the market. Find a seminar in your city
· If you prefer to study Forex from home, welcome to our online courses: join FBS webinars held by our analysts and support this new information with theory and practical skills from educational articles. See when is the next webinar
· Remember about the risk management – it allows traders to be profitable even if only 30% were successful. Without the Stop Loss your trading is a carriage going full speed down the hill. Read everything you need to know about risk management here – and also take a look at one of the educational videos by our analyst.

Okay, I got it and I want to earn on Forex! But I don't want to risk too much…
With Forex trading here's always a lot of things to take into account, and although most of the things can be predicted, there's still a place for unexpected turn or simple mistake.
Risk management and emotion control helps a lot in planning your trading sessions and maintain a clear mind whenever making a decision. But before that, you need to decide which currency you want to trade. The currency pair influences a lot, including the possible risk.
Tips:
If you want to start smoothly, you might prefer to start with the pairs of less risk: major pairs with USD can be more stable, as well as pairs with JPY. Keep away from the oil market though – at least for now, there's going to be a moment to conquer this one too!
Get money like a Boss – be a Boss!
Forex trading is not a mystical dragon that a trader needs to trick. Forex trading is a system, which has a lot of components, but all of them are absolutely possible to comprehend and master with a little bit of time, patience and a lot of motivation.
These five levels are a common place for every trader, even the greatest ones – and they became great because they didn't quit. Concentrate on your goals, use the knowledge and skills you can develop and explore the wide range of possibilities Forex opens. Remember: many people managed trading – it means, you can too!